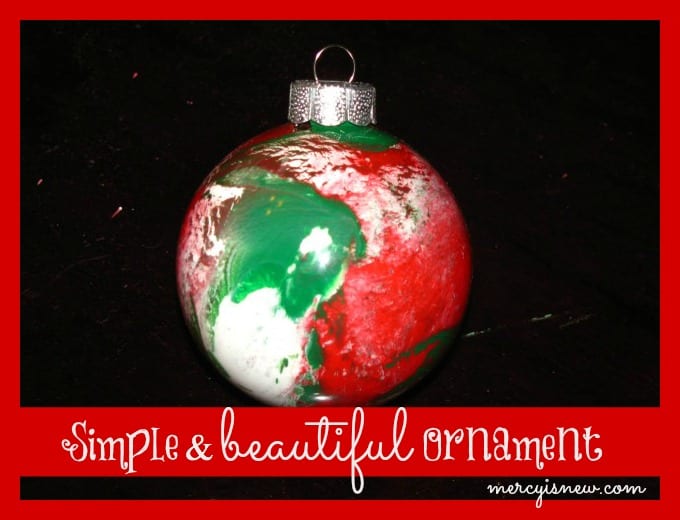 …for your kids to make! We have been making these ornaments since 2008 and every year they turned out so beautifully! I first saw this idea on Chasing Cheerios and thought that my kids would enjoy this craft.
Items Needed:
clear glass ball ornaments
craft paint (we used tempera)
ribbon to hang ornaments – probably in Christmas colors or colors to match your decor
Instructions
Take all the little lids/hangers off of the ornaments
squirt in some paint! (you can do this part for small children and the child will still have fun with the rest of the process!)
Remind your child to be very CAREFUL also, as these ornaments can break!
Put lids back on ornaments (or you may want to wait til after step 5 so you can see if more paint is needed)
Then, have the child turn the ornament all around letting the paint spread, hold it upside down, turn it sideways, etc.
Then, let the paint dry for awhile. I put ours back into the box and used it as a nice drying place.
**one note: I had one reader who said that her paint started mixing and she ended up with more of a gray color instead of the bright reds and greens. I'm not sure why this happened. She suggested letting one color dry before adding another. Honestly, we never did it this way, but you might try if you are concerned about this. In fact, sometimes we pull our ornaments out the NEXT Christmas and can still hear liquid paint rolling around in there! ha!! It probably has more to do with the type of paint or maybe how much paint you put in? I have always used tempera, non-washable.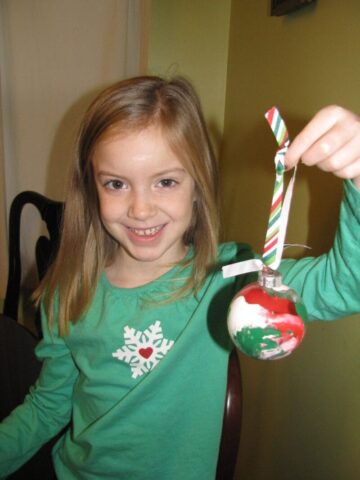 Then we used Christmas ribbon for them to hang on the tree.
I think these would make very nice gifts for grandparents or teachers, etc. (so, if you are one of those people for my kids, just pretend you haven't read this blog entry when you open your gift!)
**repost from 2008