When I saw this idea for
kids prayer journals
, I thought this would be perfect for a Lent project with my kids!
I just took a little photo album that holds 4×6 photos and we started filling the pages with pictures of people we want to pray for.
We made a title page that simply says "pray."
Then, we put in a few pictures of others that we would like to pray for. A family picture, a picture of our church, a picture of missionary friends, a picture of Haitian children I printed from online, a picture of our Compassion sponsor child, etc.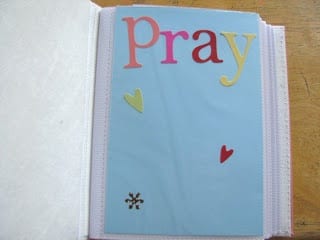 So far, the girls have used it a few times. They took it with their devotional book to their rooms at night to help them pray before going to bed. Then they also used them in the morning time as we started our day with prayer. I am hoping that these little journals will just help the girls in getting started praying by themselves. Sometimes it is hard to think of everyone we want to pray for, so they can just look through this journal and pray for people as they look through their journal.Do you have any other suggestions for teaching your children about prayer?
During Lent I am wanting to spend a little bit of time learning about the Lord's Prayer with my kids. Here are a few resources I have found, let me know if you have others!
The Lord's Prayer crossword puzzle
The Lord's Prayer coloring pages (one per line)
Prayer lessons for kids, look at Lesson #29