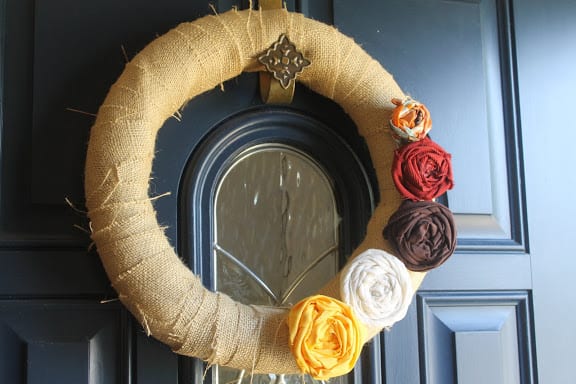 I am sure you have seen all the faaaaaaaaaaabulous wreathes all over the internet!! Such cute and creative people out there!! (and, NO, I am not one of those – I just steal other people's creative ideas!! ha!)
So, when I first saw
these fabric rosettes
and how easy this tutorial made them look, I decided to go for it. (Actually, in the spirit of honesty, I really and truly tried a few other fabric flower ventures and none ever quite worked like these did!!)
But these turn out SO CUTE!! I just love the shabby, rough edges look. Isn't it great that perfection is so out these days? Good thing!! 🙂
I put little alligator clips on the back of mine so that I can take them off and on different things in my home – or even to wear on my cardigans!! LOVE!!
I wish I had pictures of all the different colored flowers I've had on this simple burlap wreath, but the only one I could quickly find was this one I made for July 4th with red, white and blue!!
I also had various bright colors on for summer and a few other combinations. Right now, the new fall wreath has made its appearance. Just made me some fall colored fabric rosettes!!
Can you believe it's time to put out fall decorations?!!? I can't either!! But, I do love fall!!
Happy Fall Y'all!!
I am linking up with Nester's wreath party…which is maybe going up sometime on Sunday, so I'll come back and put up the official link later. 🙂 Here is the official link to the wreath party.