These turkeys turned out so wonderfully!! The kids were super creative and went beyond a traditional brown turkey.
I found the directions for drawing this fantastic turkey at Art Projects for Kids, where she gives step-by-step directions for drawing a turkey!  I used these directions several years ago with my own kids, but we followed her instructions on the colors closely.
With my art class at co- op I gave the kids a little more freedom and I am so impressed with what they came up with!
I love the colorful turkeys so much I can hardly stand it!! Aren't they wonderful??
Turkey Art Instructions & Supplies
Supplies Needed: Watercolor Paper
 + Sharpie + Watercolor Paints
Simple Instructions: We drew the turkey together, step-by-step, with pencils. Next, the kids went over their turkey drawings with sharpie markers. Then, I gave the kids a choice of using watercolors, colored pencils or oil pastels.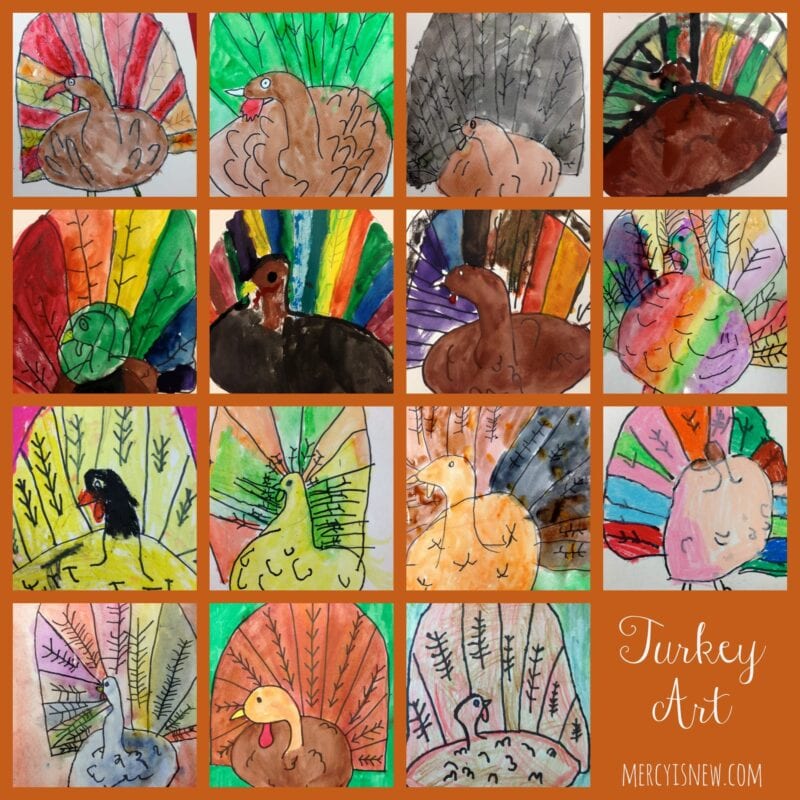 I have a lot more turkey and Thanksgiving ideas here on this pinterest board if you are needing more ideas for this week!
Teaching Art Links
One of my favorite tools for teaching art is Tricia's Simple Chalk Pastel Tutorials! Find them here!