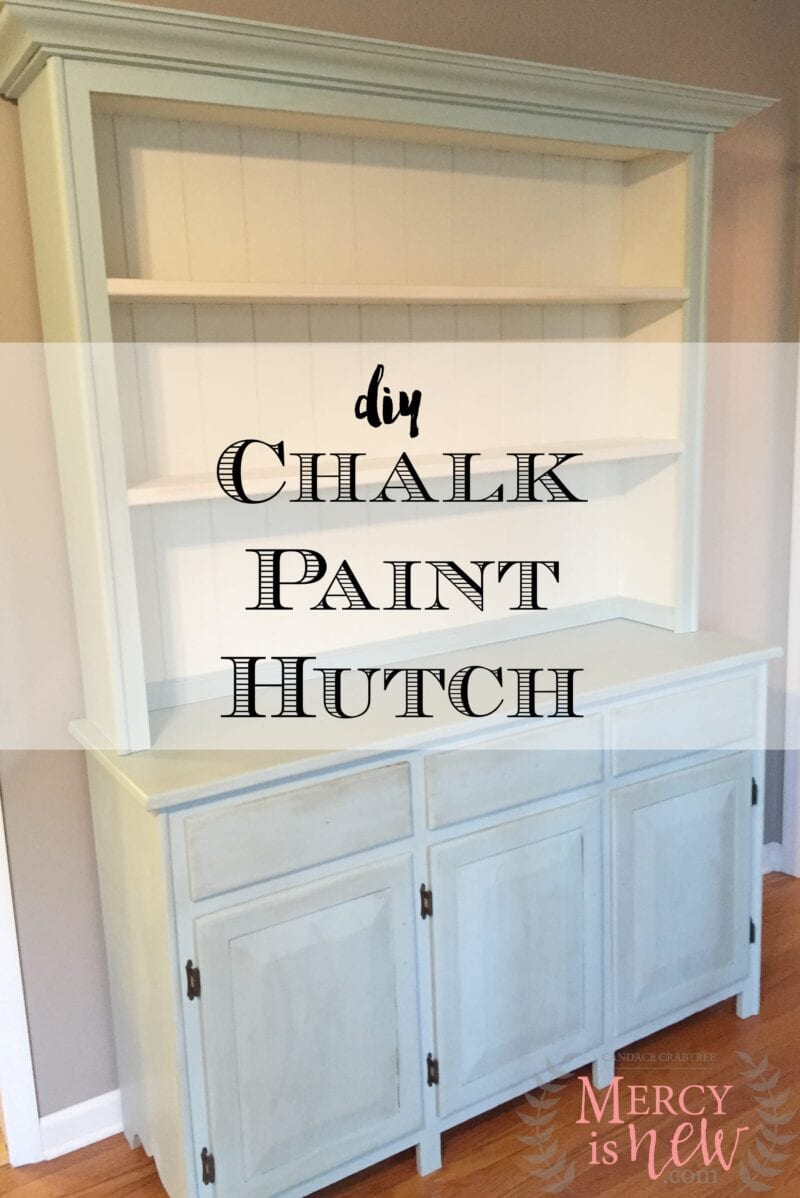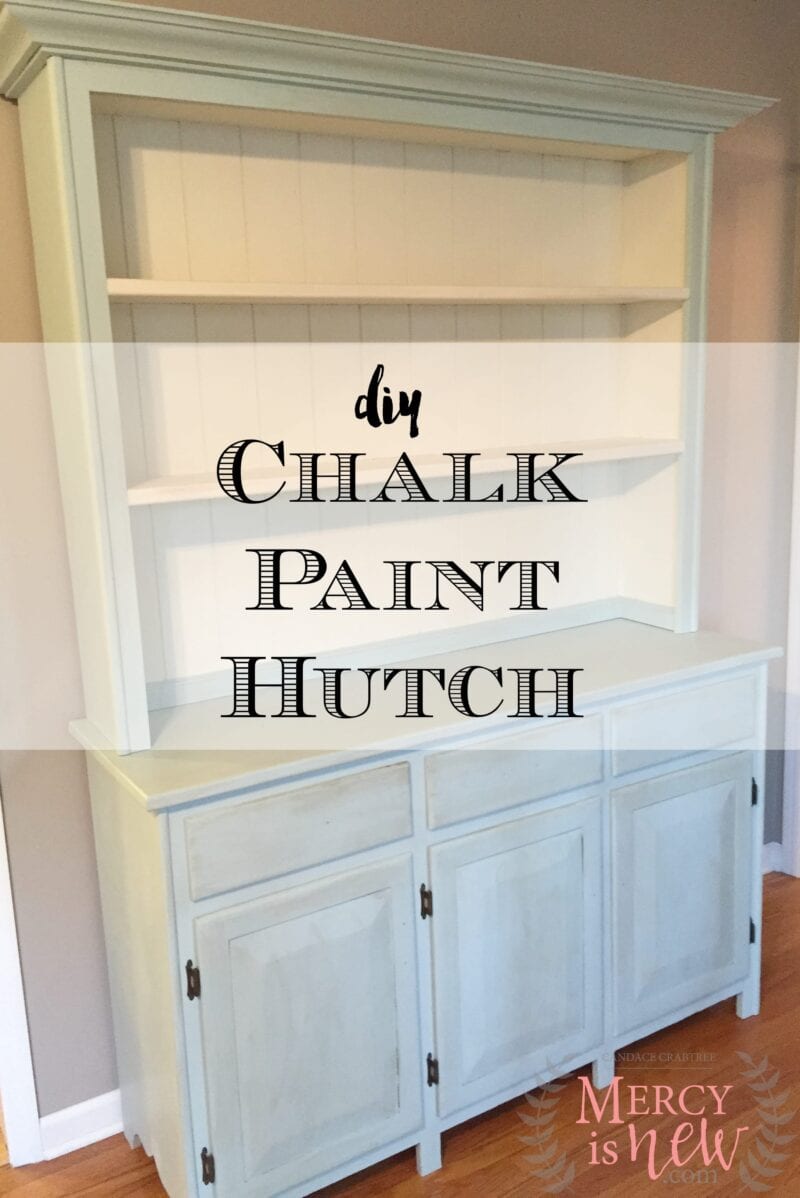 Y'all. I am so, so excited to share this post with you today. I might be a little giddy. I painted a gorgeous hutch that my grandfather made for my family with CHALK PAINT and it turned out beautifully!!
I want to share some pictures with you, the supplies I used, how different types of paints worked and how the whole process went.
So many folks LOVE the Annie Sloan chalk paint, however, I can get the Amy Howard brand very locally to me, and because I'm in a tiny town I wanted to purchase it here if possible.
Amy Howard Chalk Paint
Supplies Used
Amy Howard at Home One Step Paint (Linen, 32 0z.) (the blue color I used was Nottoway)
Amy Howard at Home Light Antique Wax – 3.25oz. (I put a layer of the light over the entire piece)
Amy Howard at Home Dark Antique Wax – 3.25oz. (I used the dark for distressing)
The WHITE paint I used was from Lowe's! They have a brand new chalk paint line out now! I couldn't find a link to it anywhere, but the cans are very similar sizes to the other brands of chalk paint I have seen.
Old t-shirt to rub wax on hutch (the paint cans say to use a brush just for wax, but I felt like a t-shirt got it covered better)
Paintbrushes
Huge drop cloth 🙂
Hardware — I did get new hardware for my piece, I ordered it from Lowe's and it was not in by the time I took my first few pictures of the hutch.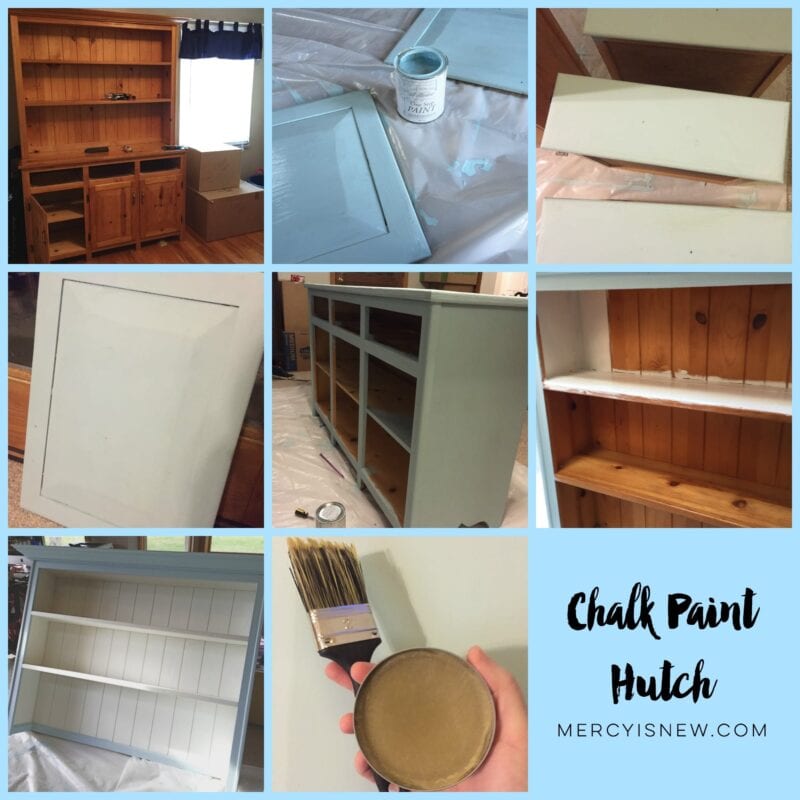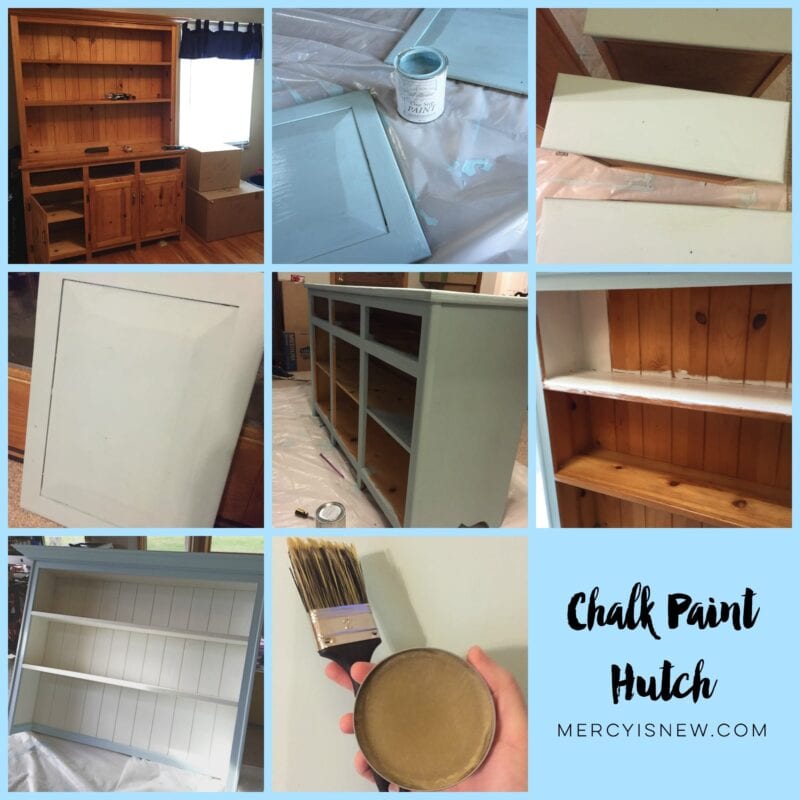 Steps to Using Chalk Paint
First and foremost — NO SANDING REQUIRED — y'all, if I had to do sanding, I would not have completed (or even started) this project. I loathe sanding. Hate it. I did not do absolutely one bit of sanding on this project.
That said, I have *read* in other places, if you have a highly GLOSSY piece of furniture, you will want to just rough it up a bit. I haven't had to do that, but you might give it a try if your piece is glossy.
My steps are really simple:
Purchase paint (I got mine locally, also look online.)
Turn paint upside down up to 1 hour before using it. Shake well.
Stir vigorously with paint stick.
Begin painting!
Give entire piece one coat. Give 30 minutes up to an hour to dry.
It's ok if you can still see wood through your piece. Some people want to leave it this way. But you can also do another coat.
2nd coat of chalk paint — my 2nd coat covered all the wood that was seen through the first layer.
After paint is dry, I used a rag and rubbed the entire piece with the wax mentioned above.
After the layer of light wax, I used a TINY amount of the darker wax in a FEW places to give it a distressed look. I LOVE using the wax to distress!! It is so much easier than sanding, which is what I used on a previous piece with milk paint.
Sit back and ADMIRE your gorgeous piece of furniture.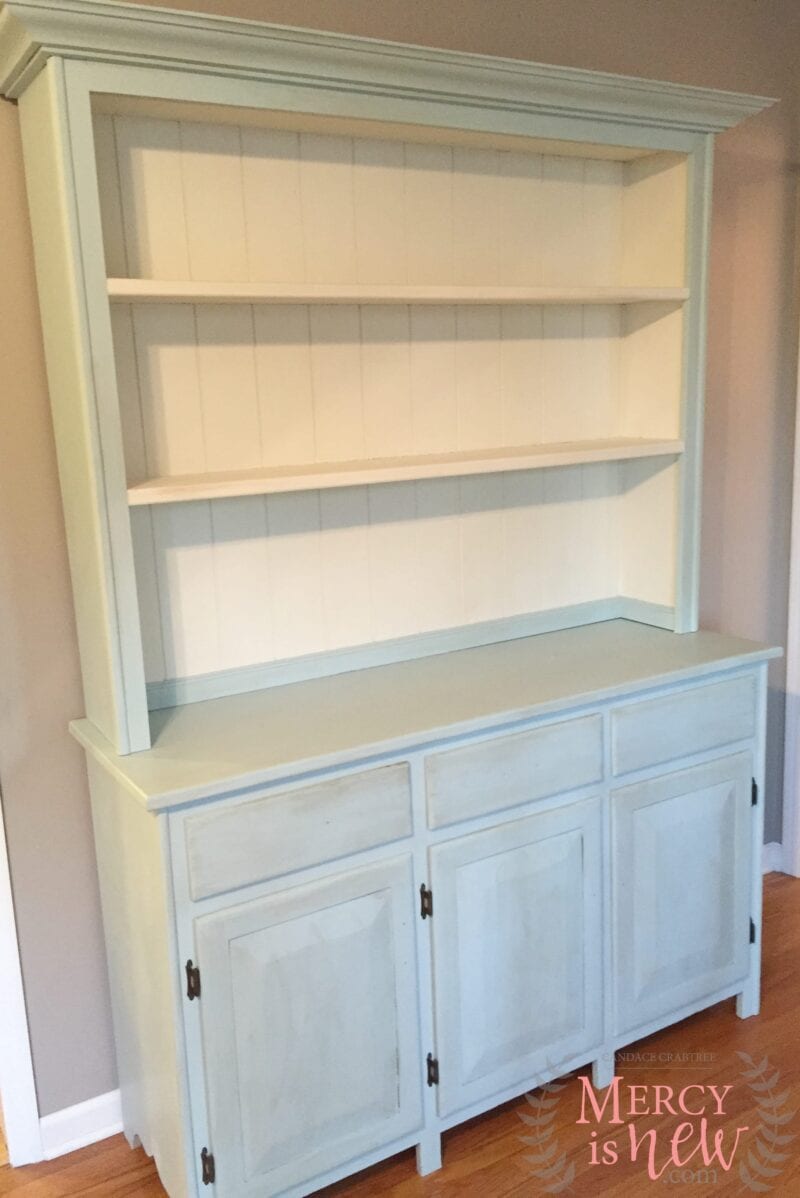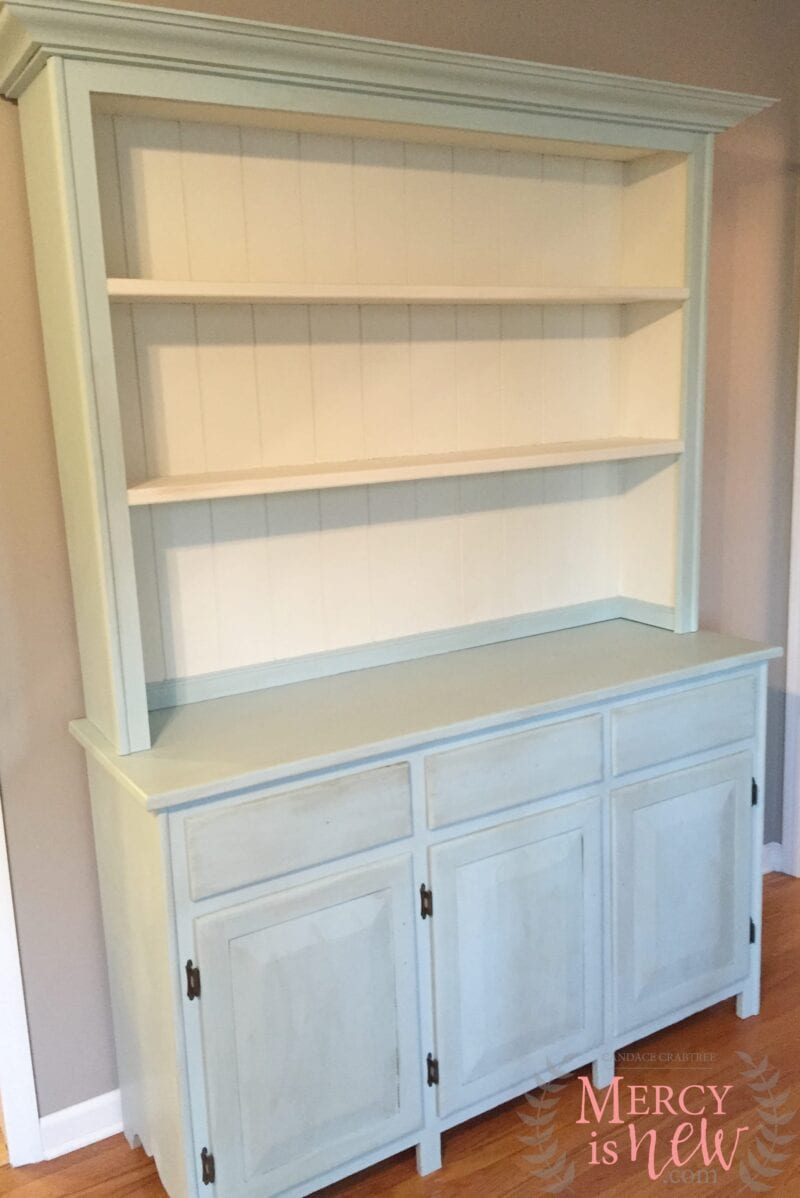 While working on this post my handles came in from Lowe's! Yay!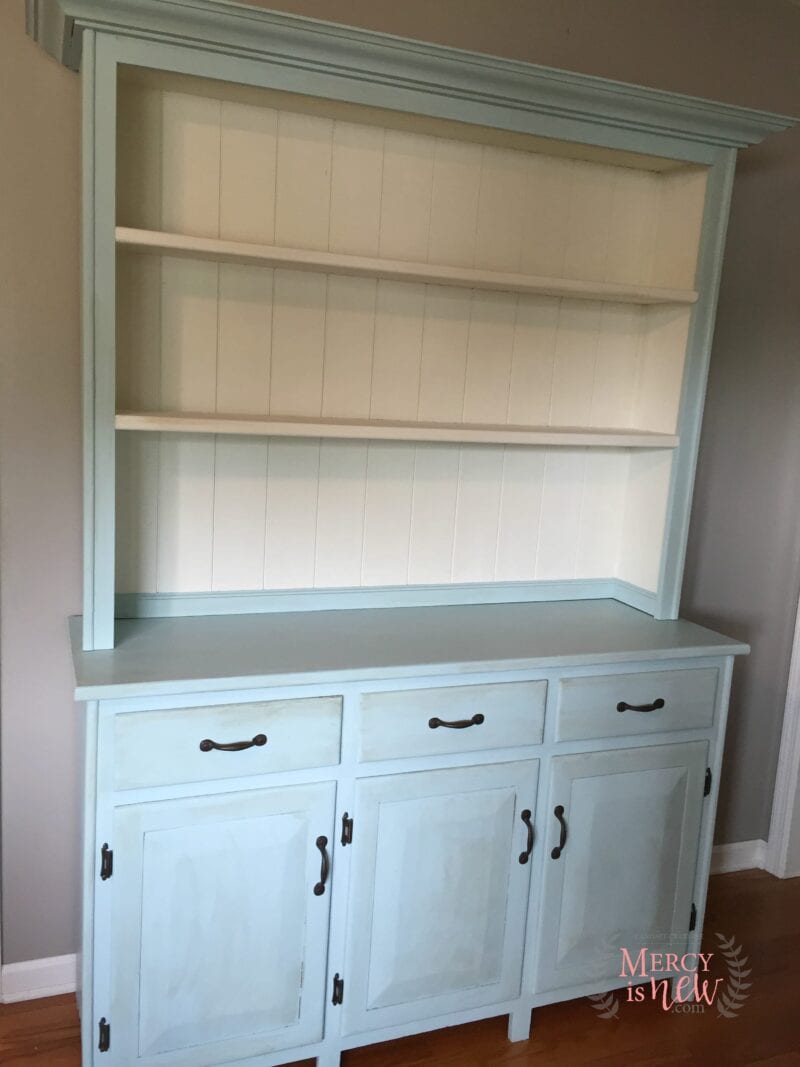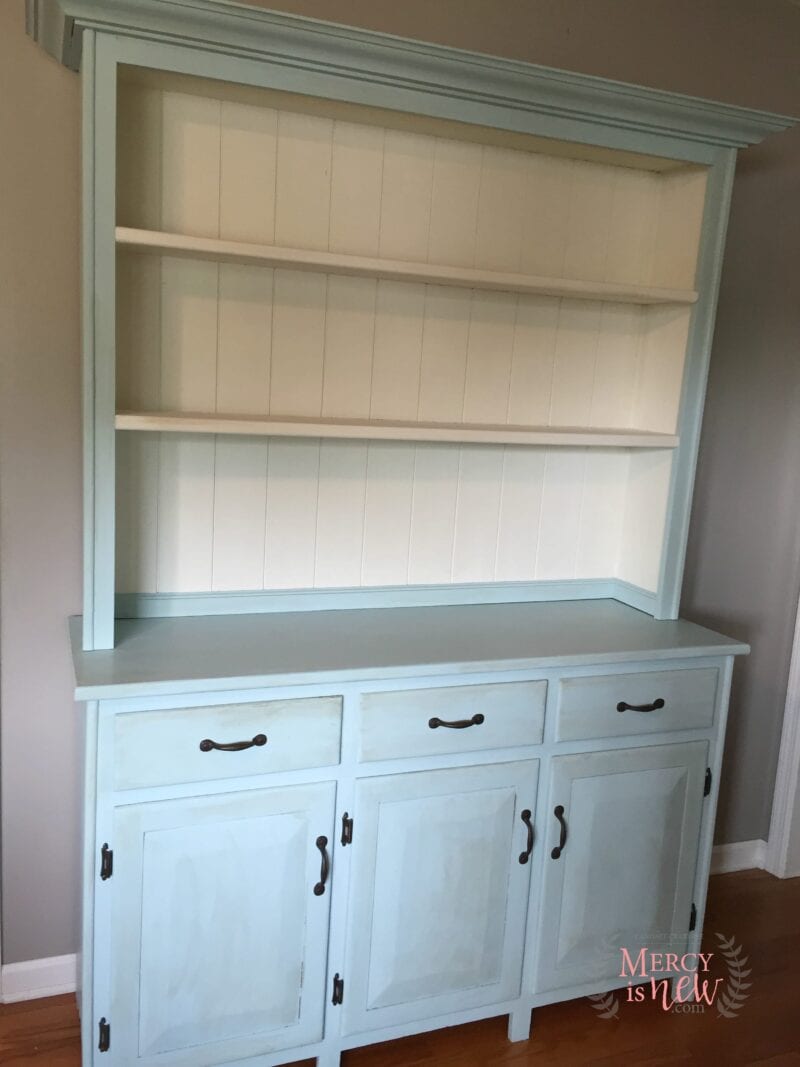 Comparing Milk Paint and Chalk Paint
I painted an antique dresser and a wooden chair with milk paint in the past!
Milk paint and chalk paint are VERY SIMILAR. Neither require sanding. Both covered the furniture so well and chip/distressed nicely.
If I had to state a difference it would be that the milk paint isn't as thick and spreads further, lasts longer. The chalk paint is much thicker (with the adhesive in the paint.) Now, I still got the ENTIRE hutch painted with ONE can of blue and ONE can of white. However, we didn't paint the inside and ran out of paint, so I would have needed more for the inside if I didn't want to be lazy and just leave the inside unpainted. 🙂
Have you ever used chalk paint or milk paint before? Tell me about your experience!