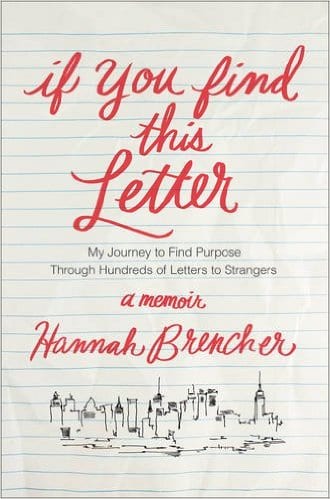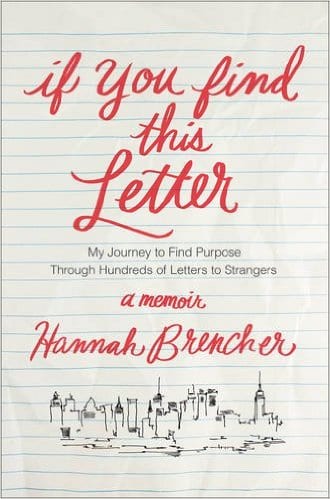 Can a handwritten letter change a life?
Can receiving a handwritten letter change a life?
Can writing a handwritten letter change a life?
Love notes are not only for romantic relationships. In her book, If You Find This Letter: My Journey to Find Purpose Through Hundreds of Letters to Strangers
, Hannah Brencher shares her story of how handwritten notes can in fact change a life. The life of the writer and the life of the recipient.
I will admit, just by looking at the title of this book or knowing a little bit about it did not make me want to read it. But, after it was VERY highly recommended by a dear friend whose taste in books I appreciate, I decided to give it a try. And we read it for book club as well.
This book is a memoir, but it's so much more than that.
The author shares her journey through heartache, depression and learning how to reach out to others through your brokenness. She starts a simple idea of leaving anonymous notes here and there. And what happens by the end of the book is actually still happening today. It has turned into quite the movement.
More Love Letters has become a worldwide mission to bring HOPE to people.
Can you imagine stumbling on a note, maybe on your car windshield, maybe taped to a bathroom stall, maybe in your seat as you walk into a meeting…that says, "You are loved." or "You've got this." or "Shine your light today!"
How might that change your day or your attitude moving forward?
Can't we all use a little encouragement?
This book made me run out and by some blank notecards. This book inspired me to want to bring hope to others. This book inspired me to want to be more of an ENCOURAGER.
The mission of the movement More Love Letters: MAKE LOVE FAMOUS. On their website they make mention that the world doesn't need another website, the world doesn't need another app, another or network or program. What the world needs more of is LOVE.
I don't know about you, but I want to make this my mission as well!