Welcome to this 31 day series where we will spend 31 days covering our homes in PRAYER!! We are also reading Radical Hospitality: Benedict's Way of Love
together and each day I will share a new quote from this amazing book. PLEASE join us in the comments section as we journey through learning to love others as Jesus loves us!
Read more details about this series and the book club here.
Read Day 1 here & print your October calendar of verses to pray.
Verse to Pray for Our Home
Matthew 5:14
"You are the light of the world. A city that is set on a hill cannot be hidden."
Prayer:
Jesus, You are the light of the world. And You have called us to be the same. May we shine brightly for our neighbors to see, for the world to see, Your love for each of them. May we shine who YOU are and not shine for ourselves.
Radical Hospitality Book Discussion
Find book here: Radical Hospitality: Benedict's Way of Love
I would LOVE to hear from you in the comments! How are you liking the book? What struck you the most??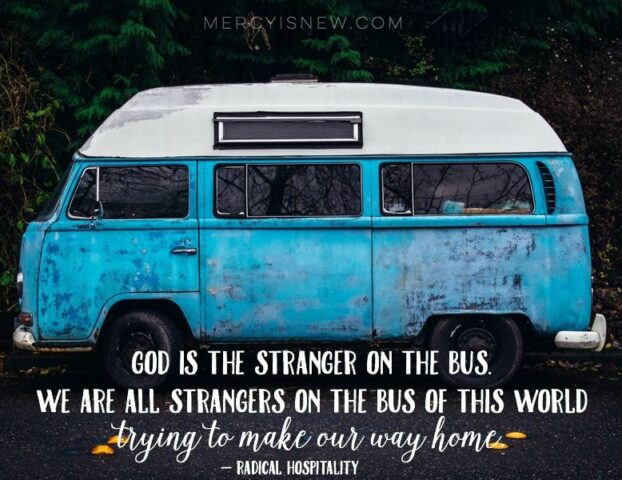 "God is the stranger on the bus. We are all strangers on the bus of this world trying to make our way home." Radical Hospitality, p. 102
"Could it be that as a culture we are covertly indoctrinated to mistrust the stranger? Could it be so common that we consider it normal? We tend to surround ourselves with people who agree with us, look and smell like us, have similar backgrounds and hold similar convictions. It's natural, isn't it? Natural." Radical Hospitality, p. 103
This was equally as convicting as other parts of this book have been for me. If I look around at my life, my friends, my kids friends, our church, our homeschool co-op…I see a lot of people that look like us and believe like we do.
Recently, we started opening our home every Sunday after church for folks to come by and eat lunch and just hang out for the afternoon. (People bring their own lunch, don't go thinking I'm a hero and cook for a big crowd every week!!)
This has been one of my favorite things about moving into this new home where we have ROOM to host people!! We've had folks over every Sunday, a co-op setting here every Wednesday and others here on other nights at times too. In all of these instances, there have been folks from other churches, folks who are different from us (at least at first glance, ha! really we are more the same than different, isn't that true for all of us??)
I have noticed that in the past I have gravitated toward those who are similar to me. It has been eye opening for me to read this book and ENJOY conversation and fellowship with those who maybe wouldn't have visited our home a year ago. It's been so, so good for me!
How can we be a LIGHT to this world if we only ever have conversations with those that are just like us??
What about you? Who could you invite to your home this week?