Welcome to this 31 day series where we will spend 31 days covering our homes in PRAYER!! We are also reading Radical Hospitality: Benedict's Way of Love
together and each day I will share a new quote from this amazing book. PLEASE join us in the comments section as we journey through learning to love others as Jesus loves us!
Read more details about this series and the book club here.
Read Day 1 here & print your October calendar of verses to pray.
Verse to Pray for Our Home
John 15:4
"Remain in me, as I also remain in you. No branch can bear fruit by itself; it must remain in the vine. Neither can you bear fruit unless you remain in me."
I also love the Message version of this verse: "Live in me. Make your home in me just as I do in you. In the same way that a branch can't bear grapes by itself but only by being joined to the vine, you can't bear fruit unless you are joined with me."
Prayer:
Father God, come live in me. Make Your home in me, just as I do in You. Abide in me. Dwell. Remain. I know that I cannot bear fruit without You. I cannot live this life with You. Lord Jesus, draw near to me.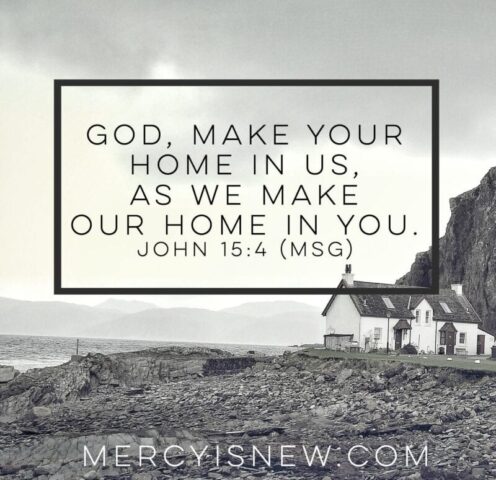 Radical Hospitality Book Discussion
Find book here: Radical Hospitality: Benedict's Way of Love
I would LOVE to hear from you in the comments! How are you liking the book? What struck you the most??
"The deep meaning of hospitality involves our entrance into the mess of things; it means we run right into the chaos if that's what it takes." Radical Hospitality, p. 153
This is hard for me. I confess to you that there have been times I have thought, "I don't have time to deal with her stress, I have enough of my own."
Ugh. How do you get to a place where you can set aside your own struggles in life and walk into someone else's? Because, opening your heart to others is going to get messy. Our lives are messy, mine is, yours is…
My initial thoughts on this are that when we enter each other's messes, ours don't feel quite so stressful as they did before. Maybe someone has it much worse than us! Or maybe just the companionship of a kindred spirit to WALK WITH US is all we need. Maybe when we carry one another's burdens they aren't quite as heavy as they are when we are stumbling along alone.
I believe that. I know that. But sometimes, I just feel like I'm too burdened to take on anyone else's burdens. People are needy, y'all. Myself included!! ha!!
I think we have to enter into this radical hospitality KNOWING that we are a needy bunch of people. I also think we have to remind ourselves that by inviting others into our homes and hearts does not mean that we are trying to FIX someone else's problems. THAT is a burden we weren't meant to bear! But encouraging, listening, praying? YES!!