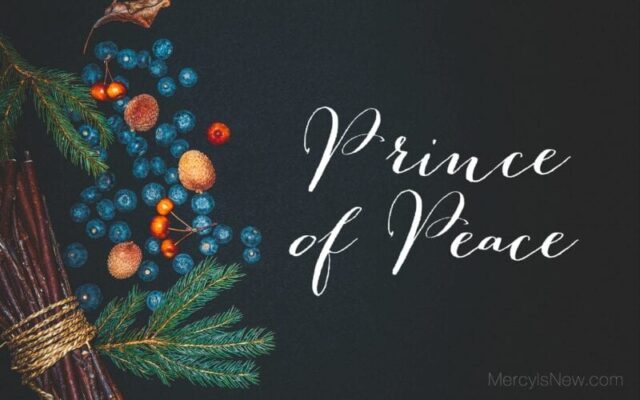 There has never been a time in my life when this world seemed to need Advent more than now. We need advent, the arrival, the birth of the Prince of Peace.
The Advent season is upon us. The first day of the traditional Advent season is Sunday, November 27th.
For to us a child is born, to us a son is given,
and the government will be on his shoulders.
And he will be called Wonderful Counselor, Mighty God,
Everlasting Father, Prince of Peace.

Of the greatness of his government and peace
there will be no end. He will reign on David's throne
and over his kingdom, establishing and upholding it
with justice and righteousness from that time on and forever.
The zeal of the Lord Almighty will accomplish this. 
Isaiah 9:6-7
With the birth of Jesus we have the birth of grace. Through the gift of His Son, God shows us true love. We learn what true peace is because of our Prince of Peace. We have the hope of heaven because of Advent.
Now, more than ever, as believers we need to be fervent in prayer and the study of God's Word. Let us fix our eyes on JESUS this Advent season. Let us remember WHY He came to earth.
One of my favorite passages in the Bible about Jesus is from Isaiah 61.
The Spirit of the Sovereign Lord is on me,
because the Lord has anointed me
to proclaim good news to the poor.
He has sent me to bind up the brokenhearted,
to proclaim freedom for the captives
and release from darkness for the prisoners,
to proclaim the year of the Lord's favor
and the day of vengeance of our God,
to comfort all who mourn,
and provide for those who grieve in Zion—
to bestow on them a crown of beauty
instead of ashes,
the oil of joy instead of mourning,
and a garment of praise
instead of a spirit of despair.
They will be called oaks of righteousness,
a planting of the Lord
for the display of his splendor.
This passage is a prophecy written about Jesus before He was ever born. We learn from this passage that through Jesus, every single one of our needs will be met. In Christ. He brings good news for the poor, He binds up the brokenhearted, He proclaims freedom for the captives, He releases from darkness the prisoners, He comforts all who mourn, He gives beauty for ashes, He gives the oil of joy instead of mourning, and a garment of praise instead of despair.
Every single need you are facing today…can be met in Jesus. He doesn't always meet our needs in the way that our flesh or this world may seek to meet those needs. But He meets them with Himself. He gives us more and more of Him.
Lord Jesus, my Prince of Peace…I welcome You into my world, my home, my heart this Advent season.
Emmanuel: God with us. God with me. God with you. 
I talked a little bit about this passage the other day on Facebook Live…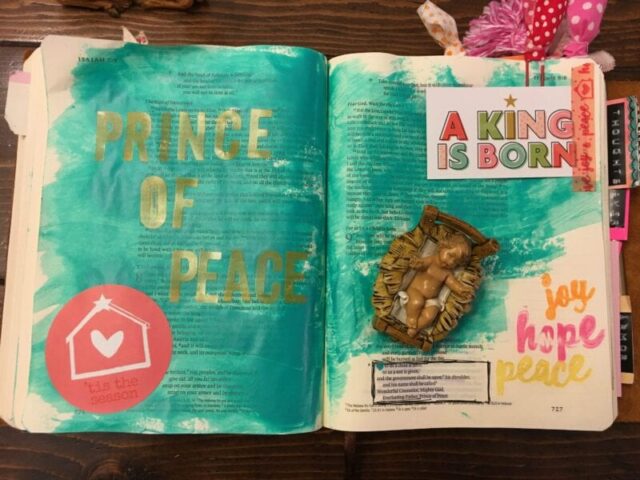 Tis the Season Journaling Kit 30% off
This beautiful Christmas Kit from Dayspring is 30% off for Black Friday. Use the code FRIDAY16
Prepare to celebrate the birth of Jesus as Melody invites you to dive deeper into some really meaningful words during this 25-day Advent devotional.  Focusing on four special words—Hope…Love…Joy…Peace, Melody gives 25 daily prompts (along with Scripture), in hopes that you will connect with these four words, the prompts, and other details within the verse.  "May each day of this journey help build our collective excitement about the coming of Christmas day and the celebration of the Messiah!"  —Melody
Devotional message:
Tis the Season
Sample copy:
1.  Future.  (Jeremiah 29:11)
2.  Glory.  (Isaiah 60:2)
3.  Freedom.  (Isaiah 61:1-3)
Plus 22 more!
Product Details:

1 devotional booklet (25 prompts with Scripture)
1 stamp pad
1 clear stamp collection with 1 sheet of cut-outs enclosed
1 roll of washi tape
1 package of 3 Scripture sharables
1 sticker
1 bow clip