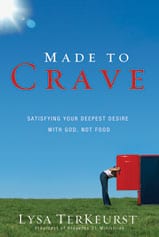 Thank you so much for your sweet comments, encouraging words and prayers from my last post…I appreciate you guys so much!!
I had several people mention wanting accountability through this journey…I just wanted you to know that I am committing to pray for each of you that has commented on these posts that you are on this journey as well!! If you haven't commented and want me to add your name to my list, let me know!! I have your names in my prayer journal and each time I pray for my own self-discipline and health, I pray for you, too!!
Chapter 2 is called Replacing My Cravings and I loved this chapter!! God has been growing in my heart a desire and love for prayer and so her suggestions in this chapter were great for me!! Learning to pray in the moment and also recite Scripture has been a big blessing for me!
"I relied on food more than I relied on God. I craved food more than I craved God. Food was my comfort. Food was my reward. Food was my joy. Food was what I turned to in times of stress, sadness and even times of happiness." — Lysa TerKeurst from Made to Crave, p. 29.
This quote really resonated with me. I never really thought of myself as a stress-eater, but when I sat down and started thinking about it, I realized that sadly, it is true. When I've had a rough morning with the kids, I craved a big coke. At the end of the day, especially after a long day, but even as a reward for getting the kids in bed (ha) I would have a big bowl of ice cream. And I'm learning that when I eat the sweets, I crave more. They are addictive for me. Seriously.
"Each time I craved something I knew wasn't part of my plan, I used that craving as a prompt to pray. I craved a lot. So I found myself praying a lot." — Lysa TerKeurst from Made to Crave, p. 30.This can actually be a very encouraging thing! I have been asking God for years now to make me into a prayer warrior. Well, whatever gets me praying is a GOOD THING! I'll take it. :)Memorizing and meditating on Scripture also helps me! I thought I would share a few verses that are helping me in this battle in particular. I would LOVE to hear from you! What Scriptures and/or prayers are you clinging to right now??
Psalm 73:26, "My flesh and my heart may fail, but God is the strength of my heart and my portion forever."
2 Cor. 12:9, "My grace is sufficient for you, for my power is made perfect in weakness."
1 Cor. 10:12-13, "No temptation has seized you except what is common to man. And God is faithful; he will not let you be tempted beyond what you can bear. But when you are tempted, he will provide a way out so that you can stand up under it."
What Scriptures are you clinging to this week?
More Made to Crave Links: