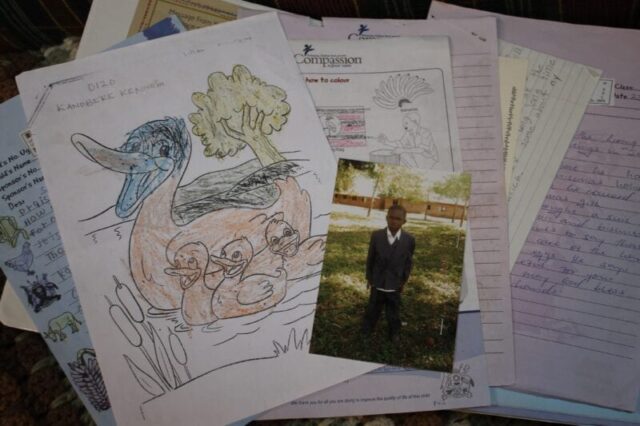 You might remember that September has been Blog month at
Compassion
! It has been awesome to be a part of this ministry and try to help get sponsors for over 3,000 children!! Amazing what GOOD technology can do, yes??
So, this month our assignment was to write on our blog from the perspective of a sponsored child. So, instead of writing a whole "pretend" letter…I thought I would share snippets of letters we have gotten from our sponsored child, Keneth.
Isn't he precious?? That picture above is Keneth holding a chicken that we got for Keneth's birthday one year!! When I opened the letter that contained this picture last year, I cried. Thinking about the life of a child being so HUGELY impacted by a chicken brought me to tears. Thinking about a child being so excited about receiving a chicken brought me to tears. My family has been impacted greatly by sponsoring Keneth. I pray you will consider sponsoring – and changing – a child's life also!!
"Dear Candace, 
Praise Jesus Name!"
(sometimes an interpreter has to write part of the letter if it is more than the child can write, in this next excerpt, a translator or teacher is writing for Keneth.)
"Keneth says you asked about birthdays in Uganda. He says that at home they don't celebrate birthdays but he does celebrate his birthday at the compassion project. he says that, at the project, they buy a cake for those children celebrating birthdays that month. He also says that, after eating the cake, they enjoy pineapple juice, enjoy sweets and they sing a happy birthday song with other project children."
Isn't it exciting (and humbling) to think that AS A SPONSOR, you are helping these children to celebrate birthdays that they might never celebrate otherwise??
"Do you have pigs in your country?"
"Psalms 37:3 is a verse for you." 
"Keneth says he is so happy that he has got a friend like you."
"Keneth says that he thanks God for giving him a gift of a sponsor. And for his shoes." 

I don't know about you, but that just breaks me up.  Truly, the tiny amount of $35 a month can be life changing for these children.
And quite honestly, it has been life changing for my children as well.