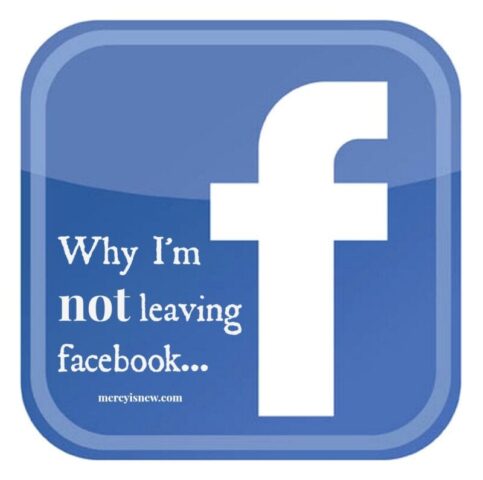 If you aren't in the social media world much you may not have noticed this, but among businesses and bloggers and those seeking to grow those things, Facebook has just been very unfriendly to us! I don't even understand all the technical end of it…algorithms and such that don't show people everything that is posted on Facebook…people are losing the reach they once had. Meaning, instead of the thousands of people that USED to see their links and such, now a very SMALL percentage is actually seeing what we/you post.
There are many, many bloggers and business owners stating emphatically that they are DONE with Facebook. No more. They are leaving. 
Not me.
Why?
Am I trying to grow the reach of my blog? Yes.
Am I trying to share things that I write and that friends write that I think matters to you? Yes.
Am I trying to encourage my readers and those that struggle? Yes.
Am I even trying to earn a little bit of income from my blog and affiliate links? Yes.
So, why would I stay on Facebook where NONE of those things seem to be WORKING??
Because people matter. Relationships and community matter to me.
While I'm trying to grow the reach of my blog, I'm doing that to grow the sense of community. Not for numbers sake. My heart is to encourage other moms and I can't do that if I'm not interacting with them. I have conversations with many of you on Facebook. I get comments there that I have never gotten on google+, or anywhere else for that matter!
I do share things on google+, but that is for search engines to find…not my friends.
You know what? I don't have to CHOOSE between Facebook and google+. I can happily use both for their different purposes…just like I will continue using (and loving) instagram to share pictures!
I blog because of you, my readers, my friends…end of story. I share on Facebook to interact with you all, to give and receive encouragement. So, I'm staying put.
A few months ago I wrote 10 Ways We Can use social media for GOOD. I still believe these reasons are applicable today…and even on Facebook! 
**Disclaimer: I am NOT stating that if you are leaving Facebook as a blogger that relationships don't matter to you. I'm just stating what I have found to be true for me and my own personal blog as I've taken some time to think and pray about my own personal goals for this blog.