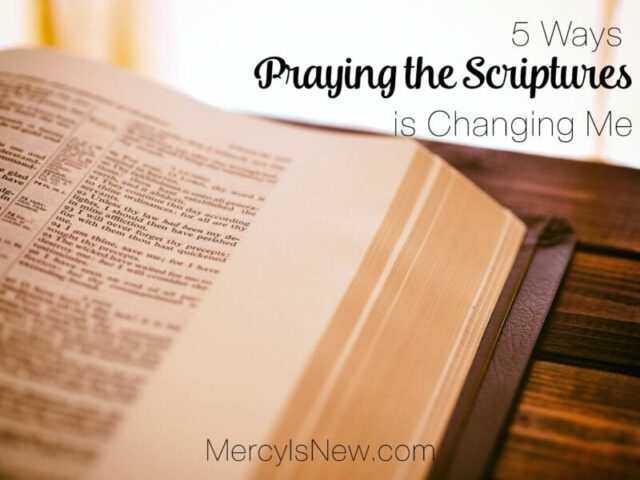 Praying God's Word has not only transformed my prayer life, but God is in the process of finishing what He started in me, working until completion on the day I meet Him face to face! I love how He uses little nuggets of truth as I dig into His Word to teach me, mold me, encourage me and grow me into who I am in Christ.
5 Ways Praying the Scriptures is Changing Me
Praying the Scriptures helps me to fix my eyes on Jesus. When I'm not spending time in God's Word it's hard for me to focus my heart and thoughts on Jesus. I need more, more, more of Jesus — and I get more of Him through His Word.
Praying the Scriptures helps me to take my eyes off of my circumstances. One of the hardest battles of my life is learning to not focus on the negative around me but to look heavenward. I have to take my eyes off the world and my circumstances and fix my eyes on Jesus if I'm going to be content and joyful.
Praying the Scriptures helps me to memorize His Word. The more I'm in His Word, the more it becomes a part of who I am, of what's in my mind and heart. There are verses I've prayed so many times that they are now committed to memory.
Praying the Scriptures helps me to speak and think truth more often. When His Word is consistently being read and studied and prayed, I am more capable of taking every thought captive to Christ. His Words are flowing through my mind and my brain as I go about my day.
Praying the Scriptures helps me to pray "Thy will be done." The more I study God's Word, the more I learn about His character, the more I trust Him…it's a beautiful cycle. The more I trust Him, the more my faith grows and the more I truly want HIS will over mine!
Read an older post here with 10 Benefits of Praying God's Word
Praying the Scriptures Resources
My latest resource for praying God's Word has to do with battling our FEARS with the power of God's Word. This may be my favorite #PrayingTheScriptures resource to date. Probably because I needed it more than anyone else. 🙂 Find it here in the shop. 
What is Praying the Scriptures? Subscribe to my blog to get the FREE ebook called Quick Start to Praying the Scriptures which gives you practical suggestions & printables for getting started!
You can get one of my PRAYING THE SCRIPTURES resources AND 13 ADDITIONAL EBOOKS for the price of just 2 of them in this upcoming bundle sale! This particular bundle is not just for homeschoolers, all women & moms would benefit!
{Praying the Scriptures resources in my shop: 31 Days of Battling Our Fears,  Wait Only Upon God, Verses to Pray for Your Family, Praying the Scriptures through Advent}