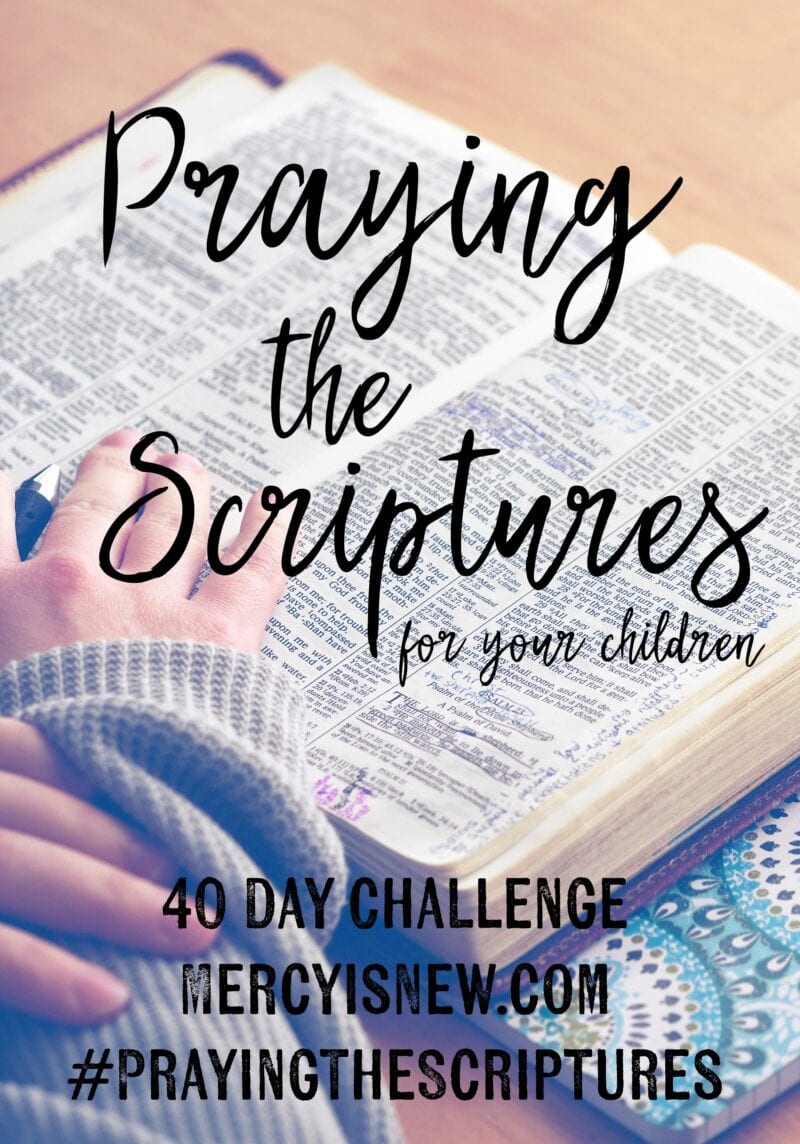 We will never be perfect parents, but we can be PRAYING parents.
Parenting is, by far, the most difficult calling I've even been given. But one thing I am learning, time and time again, is that when any kind of thought or emotion from the enemy enters our minds: fear, confusion, anger, resentment, rebellion, ungodliness – we must combat with God's Word and prayer. Only through Jesus and the power of the Holy Spirit can we have PEACE in the most difficult of our parenting seasons. Only Jesus can replace that fear with faith. And we must turn to Him, continually, to receive His gifts of love, mercy, peace and joy.
I want to challenge you to spend the next 40 week days praying God's very Word over your children. Through the power of the Holy Spirit through prayer, we can leave a legacy beyond compare for our children. Not only that, but through prayer, God also changes our hearts and continues making us into the parents He has called us and equipped us to be.
(scroll all the way down to enter your email into the sign-up box!)
What to Expect
After you have signed up, each weekday morning between 7-8am, you can expect a short & sweet email from me. This email will contain these 4 things:
Scripture passage
Short prayer
Graphic of the verse that you can save or share
An "extra resource" with some of my favorite posts, articles and resources for praying for our children!
This series isn't intended to be a dissertation on prayer. This series isn't intended to be a teaching series. This series isn't intended to be a thorough study of the Bible.
The main goal of this series is to get each of us PRAYING.
When/if you are tempted to feel like you don't know how to pray, you can't get prayer right or you just want to give up, I want to encourage you to JUST PRAY. The best way to learn to pray is to just do it. The more you talk and listen to God, the more your prayer life will grow.
You can start this anytime!
I am thrilled to offer this challenge to anyone who finds it weeks or months from now. I have it set up to begin sending you emails the very next day after you sign up! So, if you find this series on Pinterest months from the date of this blog post, go ahead and sign up, you will start receiving the challenge emails when you sign up!
It's never the wrong time to begin praying daily for our children!
Why I created this challenge
So, before you think I am a super spiritual prayer warrior who spends hours on her knees daily for her children, just stop right there. Grin. I am a normal mom like you, I battle fear, I struggle with knowing how to parent on a minute-by-minute basis, I need all the help I can get.
So I created this challenge for me. But it would be awesome if you decide to join me for the journey.
Sign up here
Enter your name & email to sign up for this challenge here. You will receive a short welcome email to let you know you are subscribed to the challenge. Make sure to check your spam folder and put my email in your contacts if you wish to make sure you see these emails everyday!
**Note: this is different than my blog subscription. You do need to sign up specifically for this challenge if you wish to receive the emails! They will not go to everyone on my email list, only those who have signed up here!