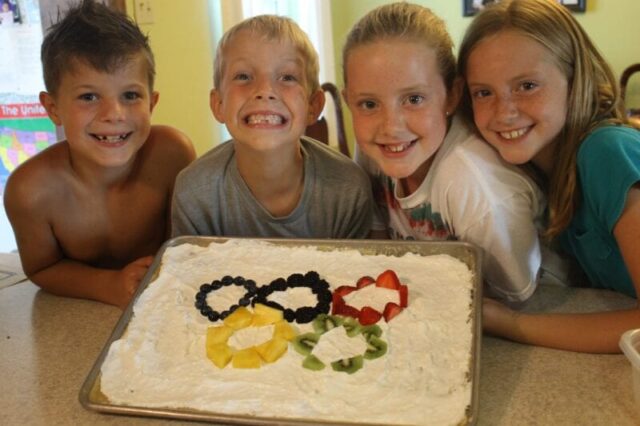 Tthe London 2012 Summer Olympics opening ceremonies are tonight!! We are excited!!
There are soooooo many fun things around the web right now. I almost didn't do a post sharing these things because there are posts everywhere. 🙂 But, I like to have a memory of what we have done also…so I'll do this post for me. 🙂
We haven't started our Olympics unit til today! The first book we read is this:
G is for Gold Medal: An Olympics Alphabet
Then, we read this book by Olympic champion, Michael Phelps. This might be my favorite book for this unit study! It is so cute!! And I love that it is written by an athlete that my kids are already familiar with. In this book, Michael tells about ALL the training he does for the Olympics and makes funny comparisons like, "Every week in practice I swam 60,000 meters. Over six years I racked up 12,480 miles. That's like swimming the full length of the Great Wall of China three times!!" This is a great book to teach children just how hard it is to make it to the Olympics as an athlete. It also is a great story of perseverance!!
How to Train with a T. Rex and Win 8 Gold Medals
More Books
The Story of the Olympics

Eric Liddell: Something Greater Than Gold

Hour of the Olympics

Swifter, Higher, Stronger: A Photographic History of the Summer Olympics

Wilma Unlimited: How Wilma Rudolph Became the World's Fastest Woman

Olympics!

A Walk in London

Madeline in London
DVD's/Movies
Torchlighters: The Eric Liddell Story
 (we will watch this through amazon prime for $1.99)
Chariots of Fire

Paddington Makes a Clean Sweep / Paddington at the Olympics

Cool Runnings
 (winter olympics story)
Passport to Europe: England, Ireland and Scotland
And, oh the fun ideas there are everywhere!! How to choose?!?
Be sure to check out the pinterest board for the olympics started by Homeschool Share. I have been pinning like crazy the past few days. So many good ideas! So little time!
But here are a few of my favorites…
We are going to play BINGO during the opening ceremonies! (there are lots of cute printables at this site.)
We will also have an olympic ring FRUIT PIZZA during opening ceremonies!
We may make these cute torches that we did a few years ago.
Pom-Pom Soccer!! My kids are going to love this!!
Check it out here! Such a fun idea.
And, don't forget about the awesome and
FREE Olympic lapbook and unit study
from Homeschool Share! (on this same page is a link to an England unit if you'd like to learn a little more about the country also.) I was only planning on doing some coloring sheets as far as printables, but my girls just mentioned they'd like to do an Olympic lapbook! Yay! 🙂
Happy Opening Ceremonies Day, friends!