Lately I've been over-thinking why exactly I continue blogging. So, in an effort to examine why others *might* read my blog, I decided to think about why I personally love reading blogs. I am an avid blog reader. I have lots of favorites. 🙂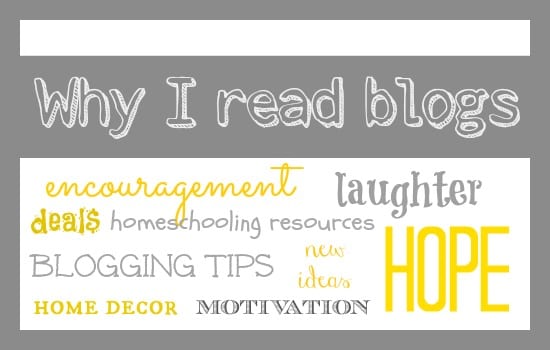 Why I read the blogs I read…
1. Encouragement ~ this is one of my favorite things about blogs. I read A Holy Experience and know I'm not alone in my mommy-insanity moments…yet her posts also direct me to God, which I love. Probably the one other blog that encourages me each time I click over is The Heart of My Home. Elizabeth encourages me in mothering so much. Just reading her blog over the years has made me a better mom.
2. Ideas & Resources ~ this goes without saying. There are certain blogs I read to find homeschooling ideas, unit studies, or craft ideas to tie in. Walking by the Way always inspires me to read MORE with my kids! I love fellow homeschooling blogs.
3. Deals ~ there are so many deal blogs out there, you really just need to find the ones that help YOUR specific family and not feel like you need to find them all. I read Mom Creative because I always get photo deals and Dayspring deals! I've saved a lot of money just because I read blogs!
4. Motivation ~ certain blogs I read motivate me to live a better life. Some of the blogs I read I have in my blog reader specifically because I need to be motivated in a certain area. I read 100 Dollars a Month because she motivates me to stop spending so much darn money and grow more, save more! I read Wellness Mama because she motivates me to put healthier things into my body.
5. Laughter ~ I admit it, sometimes I need to laugh. I have a few blogs I can turn to that I know will cheer me up. Big Mama is one of those, and so is Camp Patton.
6. Spiritual Insights ~ I love reading Living Proof Ministries blog because I love Beth Moore as a teacher. I love her devotional videos, her funny stories and reading about why she chooses certain verses to memorize. I also enjoy Every Bitter Thing Is Sweet because her adoration posts spur me to love The Lord more.
7. Home ~ I love reading blogs that match my home decor style. And you just have to find blogs that meet that for you. I have gotten so many home decorating ideas from Nester and The Pleated Poppy. I love both of their homes and the pics they share!!
8. Blogs about blogging. 🙂 I know it's crazy, but blogging and social media have taken a life of their own. I have a message to share on my blog and I love learning new and better ways to do that! I especially love reading the advice from Jimmie Lanley and Amy Lynn Andrews. Those 2 ladies have taught me a lot and they don't even know it. 🙂
So, why do you read blogs? I'd love to hear from you! Do you have a favorite blog or ten? 🙂 Do tell!