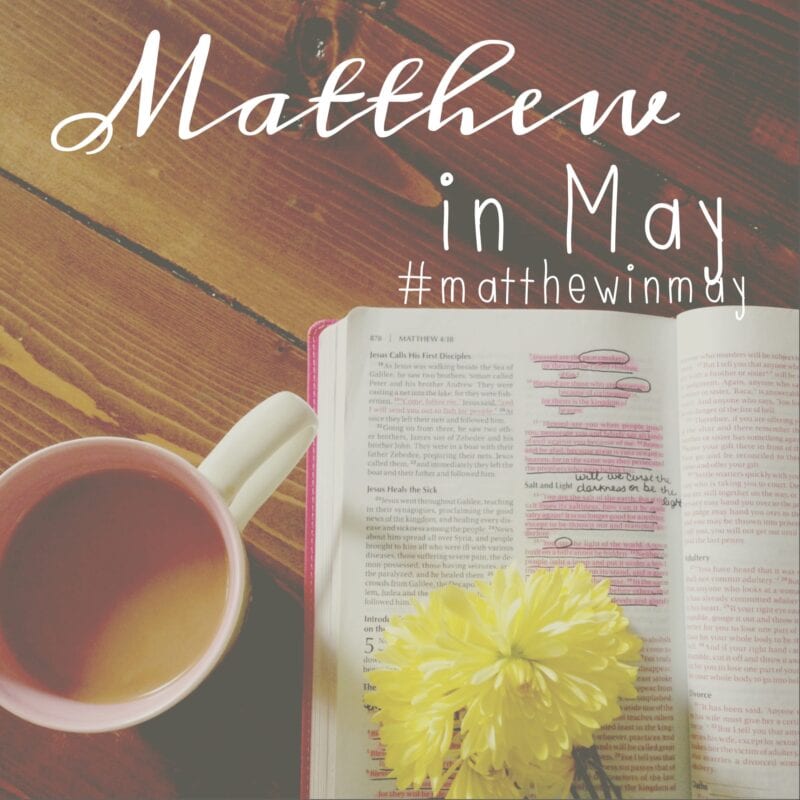 I'm going to read a chapter of Matthew each day in May — I would love for you to join me!
I've been feeling convicted and encouraged to spend some time in the gospels after reading the book Speaking of Jesus. To really KNOW the Jesus we love and worship, we need to be spending time studying His LIFE, His WORDS…the gospels!
If you'd like to join me, use the hashtag #matthewinmay on any of your social media platforms so we can find one another and encourage each other in the Word!
Ideas for sharing: the above picture was created in the app, A Beautiful Mess, I love putting verses on pictures to share. Also, share a verse that speaks to you on twitter, a nugget of truth on Facebook, a pic of your journaling for the day, pictures throughout the day that remind you of what you've read in the Word…you get the idea.
Starting tomorrow, May 1st, we will read one chapter each day in May! There will be 3 grace days or "leftover" days at the end of the month. But feel free to share whatever chapter you are on no matter the date. The important thing is to be IN THE WORD, not worry about getting behind, etc. This isn't an in depth study or anything of the like! Just encouraging each other in the Word!
I won't be sharing these posts daily on my blog. I will be sharing on social media with the hashtag #matthewinmay — I hope you will join me. 🙂
Follow me on twitter or instagram to see my daily #matthewinmay posts!