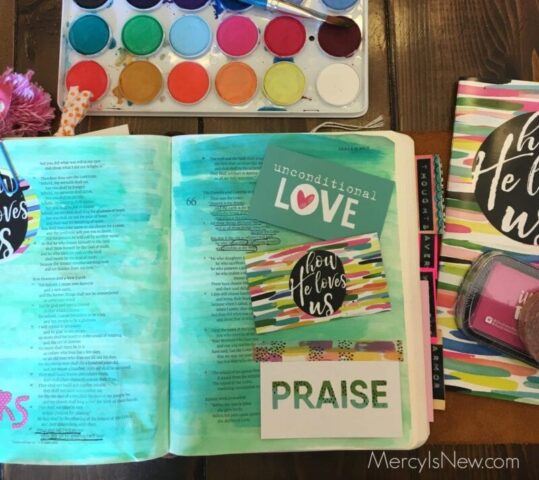 "I opened my Bible and flipped a few pages, and then I saw them. Those red letters! Satan's lies are not in red letters. Only God's written truth. I read John 15:13. There is no greater love than to lay down one's life for one's friend. That is exactly what Jesus did for us! Wow! At that moment I imagined Satan high-tailing it out of there because the lies he had been feeding me were washed away. 'There is no greater love.' A calm washed over me…" from How He Loves us devotional 
For too long I have let the lies of the enemy have too much control over my mind, my feelings and my life. But, how exactly, do we get rid of the lies?
We replace the lies with TRUTH. How do we replace them? By diving in to the riches of God's Word regularly, consistently, as much as we are able. Only His truth can replace those lies!
This month's Bible journaling kit, How He Loves Us, is all about God's love for us. It seems so basic, yet we forget and don't WALK in the love of the Father. We walk in fear, in doubt, in lies…
Teach us, Lord, to walk in Your love.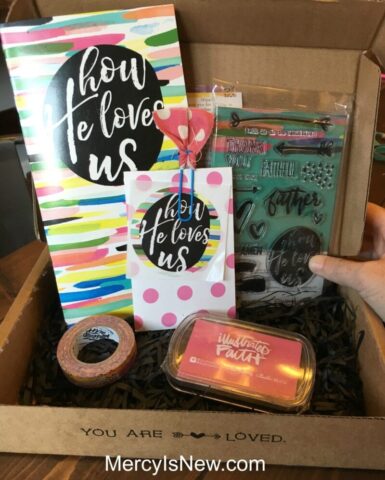 Why Bible Journaling?
I get a lot of questions about my Bible, about why I write or paint in my Bible, etc.
See all my posts on Bible Journaling here!
First — Bible journaling is a no-guilt zone. It's not anything anyone HAS to do. You don't have to be an artist to put pretty stickers inside your Bible. You don't need to feel intimated…this is personal, between YOU and JESUS.
Secondly — I choose to take notes, underline, highlight and add color to my Bible because it just gives me joy to spend time in God's Word. God's Word has truly been a lamp unto my feet and a light to my path. During my darkest days, God's Word was my strength and shield.
Do you write or take notes in your Bible? Do you enjoy adding color, paint or stickers? 
Unboxing Video