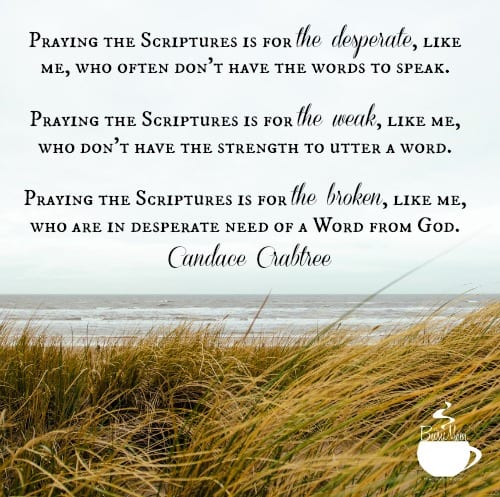 You've heard it said that the Lord can make beauty out of ashes. I've seen so much evidence of this truth in my own life, and I'm sure many of you have also.
When the Lord took me through the valley of depression, starting 8 years ago or so, I never quite expected what the Lord would do through those difficult seasons. There were times, hopeless times, when I didn't expect *anything* good to come from those hard times. And honestly, I can still get caught up in looking back and dwelling on the negative if I'm not careful.
But, the Lord is slowly, but surely, changing those negative thought patterns and teaching me, one day at a time, to focus on Him, take every thought captive, to fix my eyes on Jesus, the author and perfecter of my faith. He is so faithful, friends.
Teaching me to pray the Scriptures has been one of the most transformational spiritual acts that God has used in my life.
I hope you'll join me over at The Busy Mom to read the rest of this post…