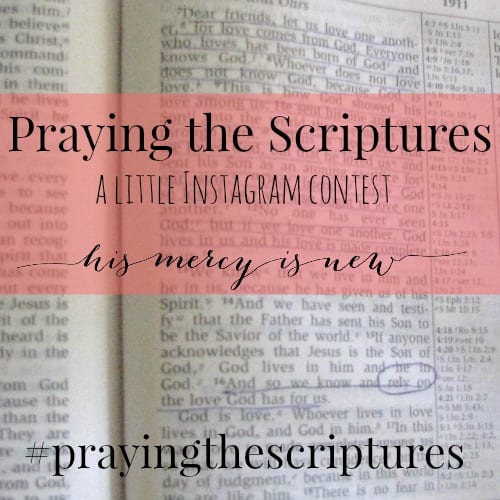 **Update: this contest is now closed. 
I love Instagram. We have a little community of ladies over there that prays the Scriptures together. I absolutely love seeing pictures and reading the words from women who are in God's Word, what they are reading that day, what the Lord has shown them in a passage. I also share a daily Scripture to pray with the hashtag #prayingthescriptures
So, I decided to have a little contest over there just to share the love. 🙂
Contest Rules
Follow me on instagram
Share a picture pertaining to God's Word or a Scripture verse.
Use the hashtag #prayingthescriptures
Share why God's Word is so precious to you.
Tag me @candacecrabtree so I can be sure to see it!
Mention the contest and ask others to join us!
Prize
2 winners will be drawn on Black Friday who will win a small goodie package from me. The contest officially runs from Monday, Nov. 24th – 28th at 8am.
Prize 1 includes (for USA resident only) : 1 print copy of 31 Scriptures to Pray for Your Family, 1 ebook Jesus, Light of the World (I want you to have it in time to start with us on Dec. 1st! If you already own it, I can send it to a friend as a gift from you if you like!) 1 journal, 1 Cherished necklace from Dayspring & a lovely Southern Living small white vase!
Prize 2 (for any location winner): 1 ebook Jesus, Light of the World and 1 ebook 31 Scriptures to Pray for Your Family