In history this week we learned about Squanto, his life and a little bit about the things he taught to the pilgrims.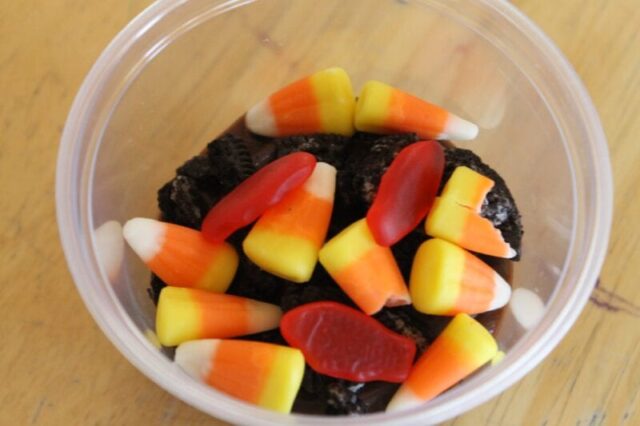 For a fun snack, we planted corn like Squanto taught the pilgrims to do!! 🙂
1. First, you layer your cup with "soil." (chocolate pudding and crushed oreos.)
2. Next, you add the "corn." (candy corn.)
3. To help the corn grow, you add "fish" to help fertilize the corn. (gummy fishes.)
4. Finally, you need to place more "dirt" on top of the corn & fish to help it grow. (more crushed oreos.)
Yum!!
We learned more about Squanto's life and put together a timeline of his life. This was a great activity for the kids to cement all the details of Squanto's life!
We also had fun giving ourselves Indian names!! Some of our names were:
he who throws balls
she who dances
she who paints much
she who laughs
he who has much energy
she who needs much prayer (that was me, ha!)