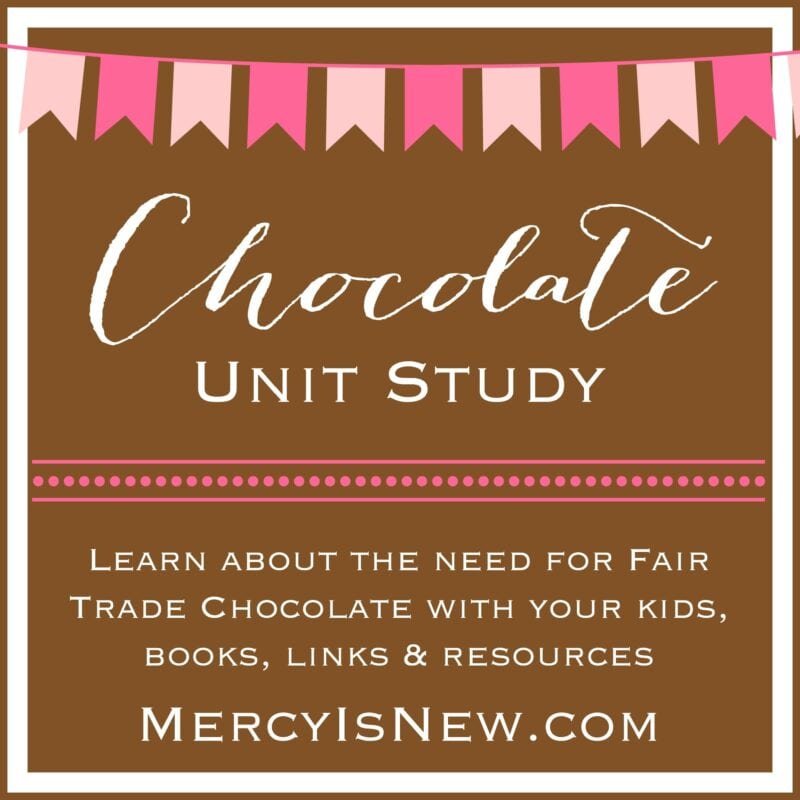 For Valentine's Day ~ actually starting around February 1st ~ my kids and I are going to go on a very tasty adventure together!! Homeschool Share has had this chocolate unit study for awhile now…and I keep thinking we will do it someday. Well, the time is now!!
I've got lots of fun ideas listed on the HSS blog  but I wanted to share a few things over here too…the books we are using, a science kit & some more info.
Books We'll be Reading 
**I strictly went with books that our library had so I didn't have to purchase any, but if you need more titles, click on the Homeschool Share unit, there is a great list there as well.
Other Fun Stuff & Links
I thought this chocolate kit
looked fun!! We are going to try it!
The Great Kapok Tree – free unit study & lapbook – this is excellent!! Discuss WHERE chocolate actually comes from!
More rainforest connections from HSS (animal lapbooks, other books)
More Valentine titles & unit studies from HSS
The Bad News about Chocolate
There is another reason I wanted to share this unit study with you. I have been heartbroken watching videos like this, which I learned about from my sweet blogging friend, Tiffany.
I am planning to share this video (there are 5 parts total, if you click on the one below you will see the others as well)  and this heartbreaking information with my children. Because, it hurts my heart to think that children are being KIDNAPPED and held in SLAVERY to bring me a moment's pleasure in my bite of chocolate. I cannot just go into walmart and purchase a Hershey bar or bag of m&m's anymore without thinking about how my choices affect the lives of children around the world.
Here is a great blog post with lots of facts as well as responses from Hershey's and Nestle.
Is it really worth a CHILD'S LIFE to find cheaper chocolate??

Fair Trade Chocolate Options:
**A lot of the math lessons I have found around the web are for using the NOT-fair-trade chocolate. There are books dedicated to M&M math, Hershey math…and I just could not bring myself to do those activities WITH those particular kinds of candy after learning about these issues. I may try to come up with some "chocolate math" ideas with the chocolate chips, candy bars and other things I have ordered from Azure. If I come up with anything specatular I will come back and share. 🙂 Also, many times you can purchase "chocolate candies" that look like M&M's but are fair trade — or your chocolate bars may be able to broken up like a Hershey bar — in those cases, you could still do the lessons but with your fair trade chocolate!! Be creative, just please don't go out and buy the M&M's or Hershey's bars just to do a fun lesson with your kids. 🙂