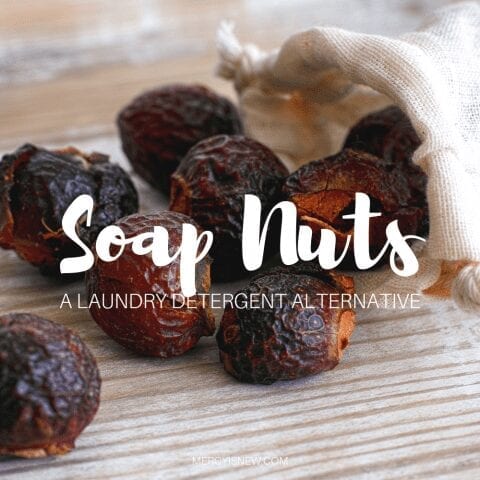 Have you ever heard of such a thing as soap nuts?
I had not either until recently as I have been perusing blogs for ideas on frugality, DIY, chickens, gardening…and I came across
this post
. (I have really been enjoying her blog, by the way!)
But, when I saw these soap nuts I had to give them a try! (I tried this small pack first just to try it out:
Soap Nuts 
. There are many different amounts you can purchase, including this
Two Pounds
bag that would probably last for.ev.er. ha!) The PRICE is right and the 100% natural is also perfect!
So, what exactly are soap nuts?
In the packaging that I received with my soap nuts, I learned that these nuts grow in wild from sapindus trees. This "dried fruit" produces a soap (saponin) which is a 100% natural cleanser! Isn't God so creative and amazing?!? He gives us so many things in nature that so often we miss out on!
Here is what wikipedia has to say about the Sapindus tree & its magic fruit. It has been used in Asia and by Native Americans for many, many years, native to India and Nepal.  I'm not sure why it has taken this long to get to the USA! 🙂
I have now used my Soap Nuts for all my laundry over the course of the past 3 weeks. So far, I've had great success! I usually do approximately 5-7 loads of laundry a week, so I've probably done at least 20 loads with these nuts. The instructions in my package, as well as what I have read online say to use 4-6 nuts inside the muslin bag that you receive with your order. You just put them in with your wash and that's it!!! After about a week, you toss out the nuts and start with a new 4-6.
A few things to keep in mind: 
Now, for those of you that like SCENT and SUDS with your laundry – you may be disappointed. But, we have been looking for more ways to go chemical & scent free for awhile now, so we like this about the soap nuts.  My clothes AND towels AND washing rags/cloths have all come out smelling fresh and clean!! No yucky smells remaining on little boy socks either. I will say, we don't have a big, sweaty man that works outside all hours of the day – so I'm not sure if it would work for that type of wash. And, I have read online that the soap nuts are NOT a good stain remover. I have read to use your regular stain stick or remover as regular to pre-treat your clothing, and then throw in the wash with soap nuts as usual.
As we have been finishing with one set of nuts, we throw it in our new compost barrel!!
If you do a quick google search you will find other bloggers and websites discussing soap nuts. Probably tons of information out there that I haven't even come across yet…but for me, I have tried it and loved it and that's all the info I need!!
Have you ever heard of soap nuts?
Have you ever tried them?
I would LOVE to hear from you if you use them or if you decide to try them out!!
Update July 2013: My biggest frustration with the soap nuts these days is that the tiny bag is hard to find and ends up in the dryer nearly every single time, especially when children are doing the laundry and not looking for it! Any suggestions there?