I can't believe I haven't updated this list since August! I also can't believe how many books I have read that I have totally forgotten about! LOL!!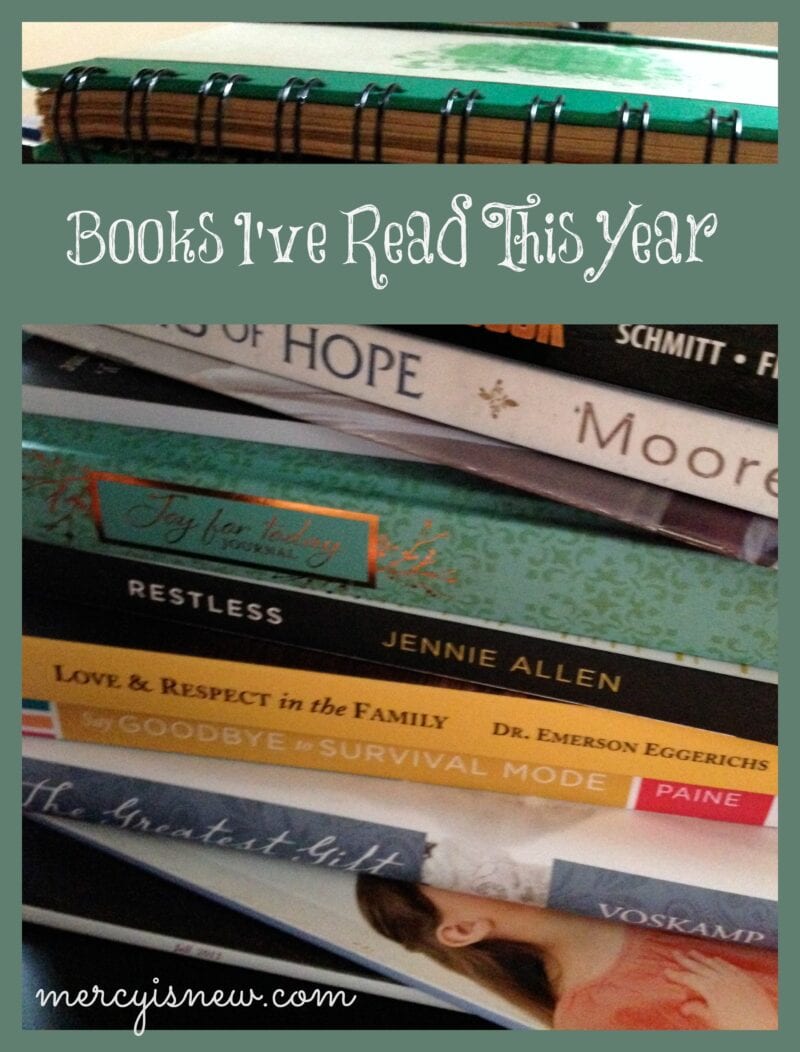 So, this will be my running list of books I'm reading (& finishing) this year…ready, set, GO!
These are books I have *finished* and in order of completion. I'm trying to post an update at least monthly. 
1. Hungry: Lessons Learned on the Journey from Fat to Thin
– I got this free for kindle awhile back and it was really good and really funny. It's real, this man's addiction to food had me cringing a few times – meaning it hit a little too close to home. This is not a how-to or a diet plan, he is just sharing his story.
2. Almost Amish
– LOVED this book on living simpler lives. I wrote more about living a simple life, my thoughts on this book and A Dirty Life here.
3. Desperate
– another great book from Sally Clarkson!! Sarah Mae was her co-author and I enjoyed this book a lot!! May be one of my new favorite parenting books to recommend!! Here are more of my thoughts on this book.
4. The Dirty Life
 – I have a post discussing this book and Almost Amish. This book is a memoir and I really enjoyed it!! This book showed me the tremendous amount of work that goes into starting up a farm! I'm thinking I'm too lazy to ever do this…
5. Hannah Coulter
 – I loved this fiction title…written by Wendell Berry. I have never read any of his books before but I really enjoyed his writing style. I am looking for more of his books to read now from the library! And I seem to be reading a lot of farming, amish, simpler life type books!! Loving these books so far!!
6. Growing Up Amish: A Memoir
 – I really enjoyed this man's memoir of growing up in the Amish world, his struggles within himself and the Amish community. His leaving and returning. Very fascinating.
7. Come to the Table 
 – my review of this book here. Love Neta Jackson's books!!
8. Abundant Simplicity: Discovering the Unhurried Rhythms of Grace
 – can't say enough good things about this book! Also, now I have a whole category about this book, a series of sorts going through the book.
9. Bread & Wine: A Love Letter to Life Around the Table with Recipes
  – another book I really, really enjoyed. Even though it was a bit different than what I usually enjoy/read. I will have more about this book coming soon…
10. The Repurposed And Upcycled Life
 by Michelle Rayburn. I wrote a book review for this book here. I enjoyed this book, it was an encouragement to me.
11. Respectable Sins: Confronting the Sins We Tolerate 
 – we read this with our small group and discussed a chapter each week. This wasn't one of my favorite reads…but I think it is definitely good for believers (especially those of us who have been christians for most of our lives or have been in the church for many years) to read and pray about and ask God to search our hearts about. These "little" sins are not little and have a way of creeping into our lives without us even thinking about it! So it's good to ask God to search us and think about these things.
12. The Christian Parenting Handbook
 ~ excellent, practical parenting wisdom!! Read my review here!
13. Delight Directed Learning: Guide Your Homeschooler Toward Passionate Learning 
 – this book was a short, fast read and was inspirational for those of us wishing to homeschool with more of our kids interests at heart! The only thing I wish there had been more of is practical ideas for elementary aged kids.
14. Getting the Most Out of Your Homeschool This Summer: Learning Just for the Fun of it! 
 – this was another quick read that was really encouraging for getting some schooling done in the summer!
15. Sparkly Green Earrings: Catching the Light at Every Turn
 – loved this book. Read it in 2 evenings. Melanie Shankle is  hilarious. Reading this book happened for me at a time I really needed the laughter!! Easy, quick, delightful read on motherhood.
16. Fit to Burst : Abundance, Mayhem, and the Joys of Motherhood
 ~ fabulous book for moms. Definitely some NEW insights on law vs. grace in this book. This book was also very convicting in terms of being a mom who will SACRIFICE her desires for the best of her family.
17. Surrendered Hearts
 ~ a very fast, easy Christian fiction read! I enjoyed this book. I don't really tend to love the "Christian romance" type stories, but I do love sitting down and finishing a fiction book in 2 days just for pure enjoyment. 🙂 This book reminded me a little bit of Karen Kingsbury's reads.
18. I Am a Church Member: Discovering the Attitude that Makes the Difference
 – this little book is fabulous – such a quick, yet convicting read. If you attend church anywhere, you should read this book. 🙂 I wrote a review of this book here.
19. Look Me in the Eye: My Life with Asperger's
 – if you have anyone in your life with Asperger's you might want to read this! I loved the insight into the mind of one with Asperger's. This is his memoir, very fascinating. Warning: there is some language and crude scenes in this.
20.Traveling Mercies: Some Thoughts on Faith
 – I've heard so many good things about this book. It took me a long time to get into it. It's another memoir…and I would describe it as the author's fight for the faith through all of life's struggles. About halfway through the book I started enjoying it more. 🙂 Probably not one of my to favorites, but I do enjoy reading about the faith of those that differ from me and this fit that category!
21. The Ultimate Guide to Brain Breaks – if you work with children or homeschool, this books is fabulous! Come read the science behind why we need breaks in our day…and how movement is really good for our brains! Lots of brain break ideas too! I wrote a review of this ebook here.
22. How to Blog for Profit (Without Selling Your Soul)
 – If you are a blogger or are interested in blogging…and you'd like to earn some money doing so, this ebook is fabulous. I wrote a whole review of this book here. Highly recommended.
23. The Fourth Kingdom (The Kingdom Chronicles)
 – I read this book (along with the force) for a review and was surprised by how much I enjoyed these books! These aren't my typical reading genre, but the stories drew me in and I HAD to finish them. 🙂 These are science, futuristic, thriller type books – yet from a Christian standpoint. I wrote more about this book and The Force here on my blog.
24. The Force (The Kingdom Chronicles)
 – more about this book and The Fourth Kingdom found here on my blog.
25. Million Little Ways, A: Uncover the Art You Were Made to Live
 – this book deserves a post of its own, hopefully I can get to that soon. This book was just what I needed at a discouraging time in my life. God could not have given me this book at a better time in my life. It is so wonderful. And don't think that you aren't an artist so you should not read this book. I'm not an artist either, though I do have a lot of right brain creative tendencies. 🙂 This book shows us that we ALL have art within us – given to us by the God who CREATED us in HIS image – and when we grow into who God has made us to be, we are showing off HIS glory to the world! I recently started a book club and this was our first book!
26. Preschoolers and Peace
 – I have long loved Kendra's blog by this same title, Preschoolers and Peace, so I wondered if I would find anything new in her book. I did! I enjoyed this quick read a lot. And I mention that it was a "quick read" as a good thing, not a bad thing. Any mom – with preschoolers or not – sometimes needs some help quickly and doesn't have time to read hundreds and hundreds of pages to find that help. 🙂 I no longer have preschoolers in my home, sadly, however, I found this book still to be applicable to me. Especially the introduction, of all things, reminding me of my identity in Christ and not the fact that I homeschool. There is lots of practical in this book and also lots of encouragement. I encourage you to check this out if you have 1 or 10 children in your home. There is something here for everyone.
27. The Chance: A Novel
 – another Karen Kingsbury book that I read in less than 24 hours. These books are PERFECT when you need a story to dive into yet not a lot of brain power left. I say that as a positive thing, these books encourage me in my faith, yet I can "get lost" in a story and just read the day away…there aren't many days like that, as a mom, so I appreciate them greatly when they do occur!
28. To the Land of the Lost
 – a book written by a mom of a son with Asperger's. The child is now an adult, so they lived through the Asperger's diagnosis before it really was very well known. I wrote more about this book here.
29. A Wreath of Snow: A Victorian Christmas Novella
 by Liz Curtis Higgs – oh my, what a sweet, short Christmas novella. Just perfect for December. Our book club chose this book for December and I loved it! Great story on the theme of forgiveness.
30. The Warrior
 by Joyce Swann. I loved this book! It will encourage you SO MUCH in the area of praying for your children and even praying for people you don't even know! This is a fictional book but I highly, highly recommend it! I would not have thought a fictional book on prayer would be one that i enjoyed…but I loved this book and hope that lots of you will read it! 🙂
31. Insurgent (Divergent, Book 2) (Divergent Series)
 – oh my y'all. I read this book in TWO DAYS. I had read the first book in this series, called Divergent, last year…and was waiting on the next one to come out. Then I promptly forgot about it. 🙂 If you enjoyed reading the Hunger Games, you will love this series. I could not put it down. And now I MUST go and get the 3rd book in the series because, of course, it leaves you hanging. 🙂
32. Allegiant (Divergent Series)
 – this series drew me in just like the Hunger Games did…I loved it! I couldn't put it down! I'm afraid to say too much…but the ending to the 3rd book made me mad! I couldn't believe how it ended…so, I won't say more than that. I did love the series!!