UPDATE: Please head over to this page to find all my monthly FREE printables for praying the Scriptures!! Each month I will be adding a new one. 🙂 
I have so loved Praying the Scriptures for Our Families through the month of October. {And guess what? You can use these same passages again and again if you wish! It doesn't have to be October to pray for our families, right? grin!}
I decided to keep on praying the Scriptures with you by making this printable for November!
And YES I am working on MORE Praying the Scriptures resources for you as we speak!! Jesus, Light of the World: Praying the Scriptures through Advent JUST RELEASED! I'm just THRILLED that so many want to join me on this life changing journey of praying through God's Word.
For November, we are going to pray different Scriptures on the topic of thanksgiving. Join me!
Don't forget to use the hashtag #prayingthescriptures — just take a peek down that tag at Instagram. A.MA.ZING. I love it!! So many people PRAYING and IN THE WORD.
Also, click on this NEW PAGE I created for all of my Praying the Scripture posts!
{Click on this graphic to open the PDF and print}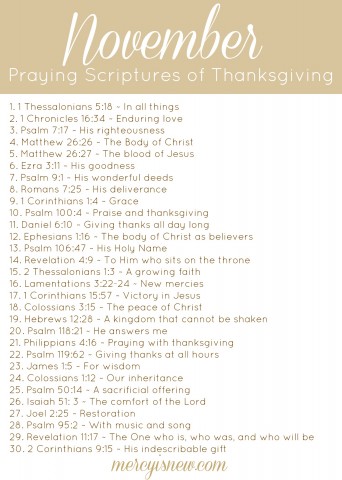 More Praying the Scripture options