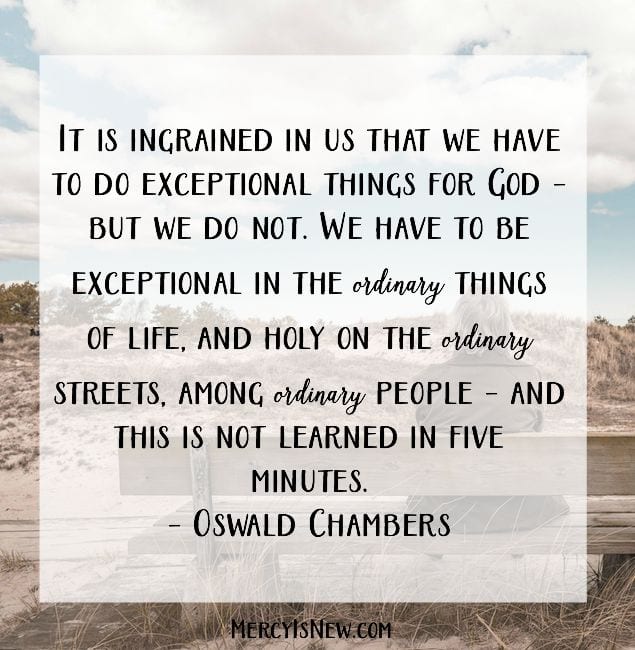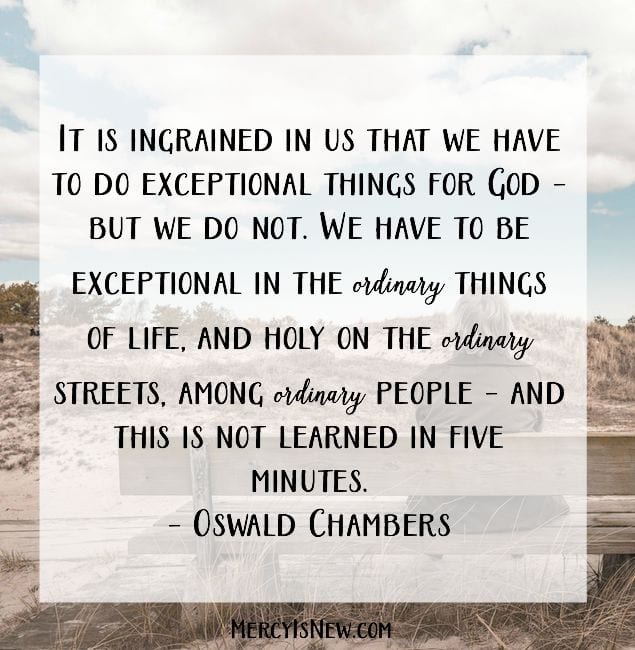 Have you always wanted to do BIG and GREAT things for God? 
Have you wanted to have any kind of fame or following in whatever your field may be?
Have you ever felt that God only calls people to BIG and GREAT things? 
If you've experienced any of these feelings or thoughts, then, like me, you need to read Emily P. Freeman's new book, Simply Tuesday: Small-Moment Living in a Fast-Moving World
.
Book description: We move through the week breathless and bustling, just trying to keep up while longing to slow down. But real life happens in the small moments, the kind we find on Tuesday, the most ordinary day of the week. Tuesday carries moments we want to hold on to – as well as ones we'd rather leave behind. It holds secrets we can't see in a hurry – secrets not just for our schedules but for our souls. It offers us a simple bench on which to sit, observe and share our stories.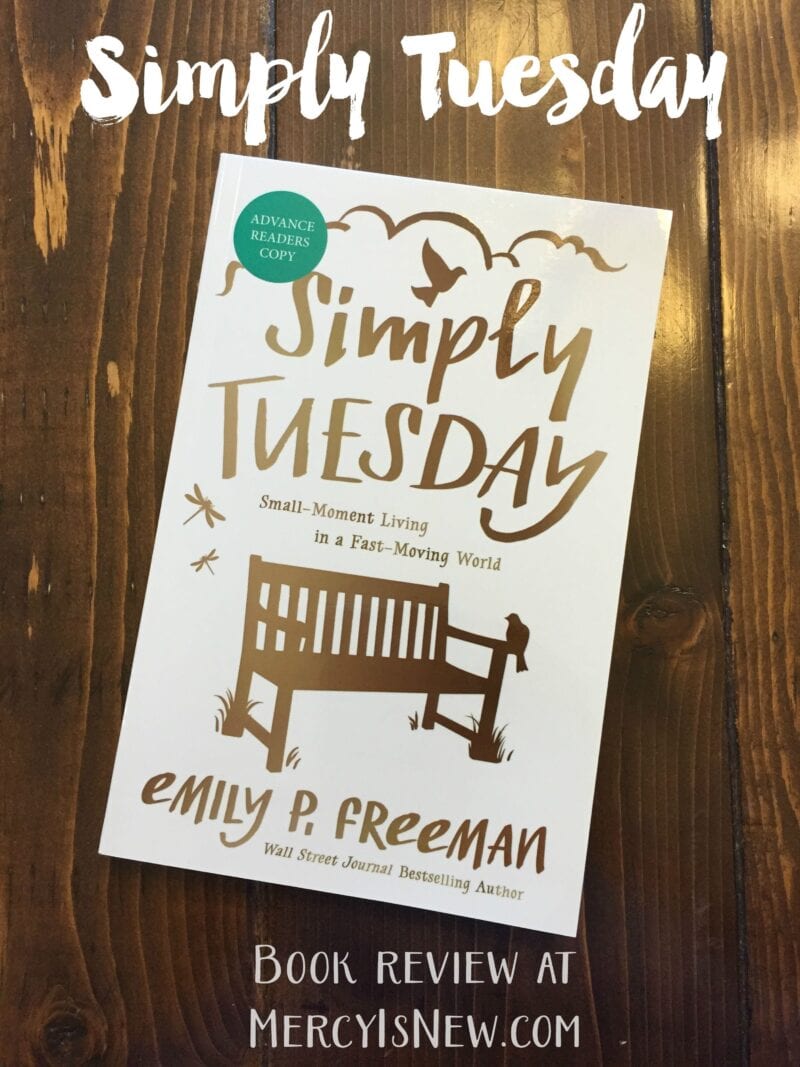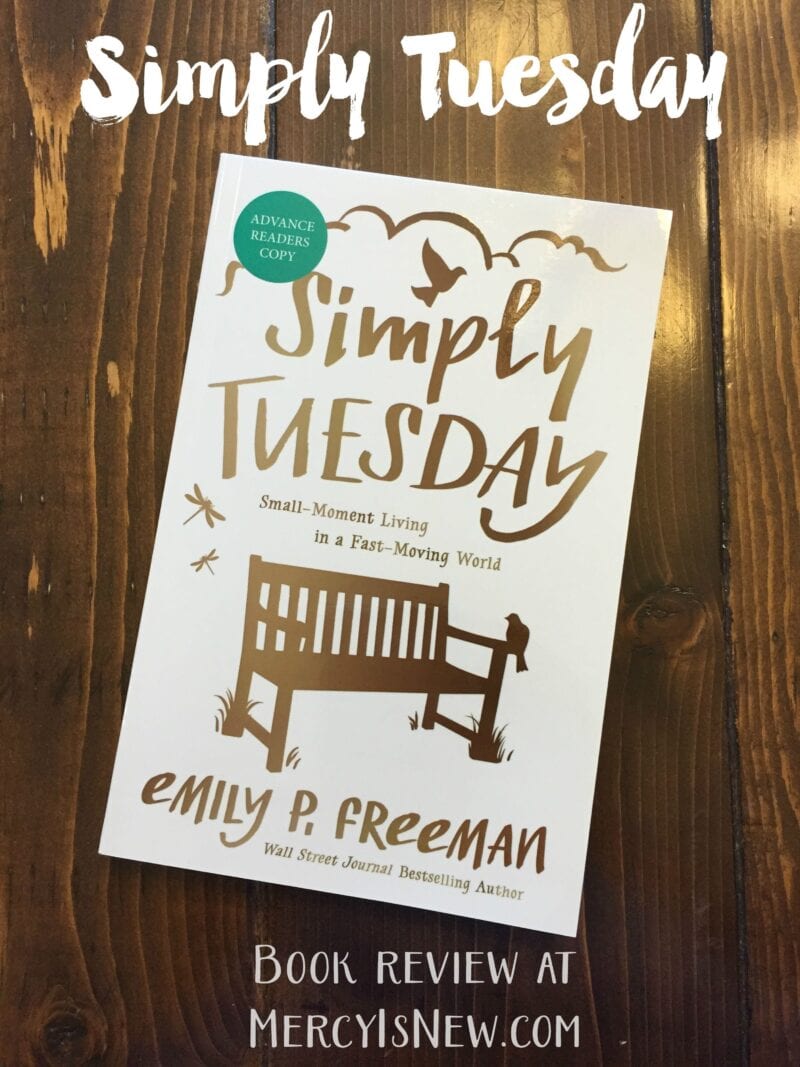 Where to Look for the Kingdom of God
When we look at Scripture at the life of Jesus, we don't necessarily see someone who became rich and famous. In many instances, we see the opposite.
He had 12 close disciples, not thousands. He wanted the children to come to him…small children. He wanted us to have childlike faith. "Seeds, nets, yeast, a hidden treasure, a farmer, and a child – these are the clues to the kingdom. We don't have to fear this small way. We don't have to worry that embracing smallness will shrink our impact. Small was Jesus's whole life – how he came, how he lived, how he died, even to whom he revealed himself once he rose again." Simply Tuesday, p. 37.
I don't know about you, but it's a relief to me that I don't have to *try* to be something bigger than God made me to be. I don't have to be a famous author. I don't have to have millions of followers on Facebook. I don't have to sing a concert for thousands. I don't have to be any of these things to have a big impact for the kingdom of God.
I can be small and do small things, all for the glory of God. And the glory of God is HUGE. I don't need to be HUGE because HE ALREADY IS.
And what impact does "small" have on our lives?
"Small is the position of my soul, the posture by which I approach others, God, and myself. When I'm small, I know I can't control opinions, manipulate outcomes, or force my agenda on others. When I'm small, I can move into the world confident as the person I mostly deeply am because I know I don't move into the world alone." Simply Tuesday, p. 37
I love that because as moms, what are we doing day in and day out? We, as moms, are in the business of small. Changing diapers, reading bedtime stories, fixing peanut butter sandwiches for the 100th time, cleaning toilets and sinks and floors and counter tops. Day in and day out. Smallness. 
But, finding joy in our smallness? Is it possible? YES!
Is God at work, even in the small? YES!
"Without realizing it, we equate growth and size with God and favor, never stopping to consider the invisible kingdom we walk around in, the kind that starts as a mustard seed and grows whatever way it wants to, the kind that often works in secret, small ways – without our effort – like a seed, like yeast, like salt." Simply Tuesday, p. 77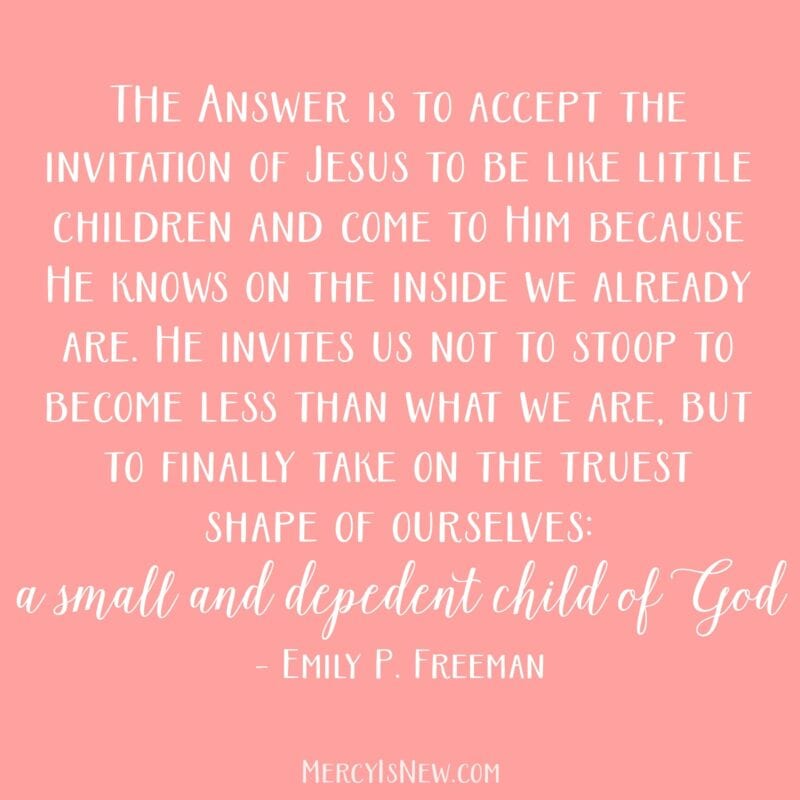 How Does This Apply To My Life?
I love that each chapter in this book ends with a prayer. Making it personal and applying to our own lives is where the JOY is found in SMALLNESS.
Are you feeling discouraged, as I do at times, that our kids aren't learning any faster than they are? Are you frustrated by a lack of progress in your own spiritual life? Have you forgotten about the faith of a MUSTARD SEED?
Does changing diapers and cleaning toilets feel so much "less than" and you have dreams of going out into the world to "make a difference?"
No matter where you find yourself today, in the smallness of your own home, the smallness of a cubicle or the smallness of something that seems too HUGE to carry in your smallness…know that "what gives moments meaning is not the moments themselves but the presence of Christ with us in the midst of them." Emily P. Freeman, Simply Tuesday
Find Simply Tuesday
 on Amazon. 
.