Welcome to this 31 day series where we will spend 31 days covering our homes in PRAYER!! We are also reading Radical Hospitality: Benedict's Way of Love
together and each day I will share a new quote from this amazing book. PLEASE join us in the comments section as we journey through learning to love others as Jesus loves us!
Read more details about this series and the book club here.
Read Day 1 here & print your October calendar of verses to pray.
Verse to Pray for Our Home
Matthew 25:35-40
"…for I was hungry and you gave Me food; I was thirsty and you gave Me drink; I was a stranger and you took Me in; I was naked and you clothed Me; I was sick and you visited Me; I was in prison and you came to Me.'
Then the righteous will answer Him, saying, 'Lord, when did we see You hungry and feed You, or thirsty and give You drink?  When did we see You a stranger and take You in, or naked and clothe You?  Or when did we see You sick, or in prison, and come to You?'  And the King will answer and say to them, 'Assuredly, I say to you, inasmuch as you did it to one of the least of these My brethren, you did it to Me.'"
Prayer:
Oh God, we long to be more like You. When we see someone on the side of the road may we not pass judgement. May we offer up a prayer, offer financial assistance or give them a meal. When we see the hungry, may we see You. When we see the thirsty, may we see You. We we meet a stranger, remind us that we are meeting You. May we clothe the naked and visit the sick. May we not be self-righteous but wearing only the righteousness of Jesus as we walk through our days and into this world.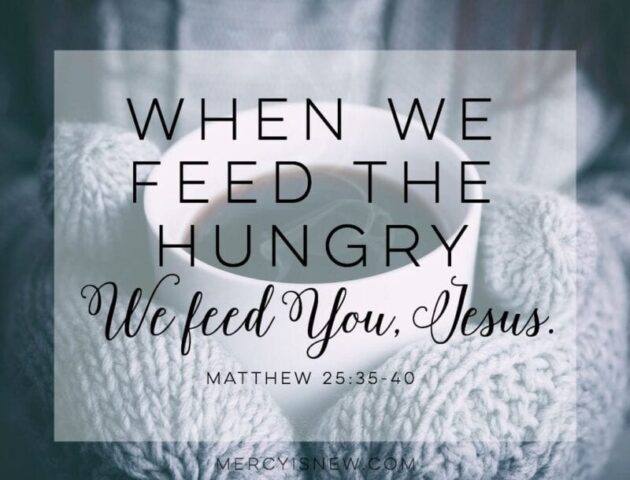 Radical Hospitality Book Discussion
Find book here: Radical Hospitality: Benedict's Way of Love
I would LOVE to hear from you in the comments! How are you liking the book? What struck you the most??
"Hospitality means we don't tell people how to feel. We listen to them. We let them tell us how they feel. This is not easy for a compassionate person to do. We stir up the pot of our own emotion and experience, and the result is what I feel. How I would respond. How I would behave…Even if we think we have been through exactly the same experience ourselves, we cannot know what another is feeling." Radical Hospitality, p. 110
Well, being a compassionate person, whose spiritual gift is overwhelmingly mercy and exhortation, you might say that I have made this mistake a LOT of times. My empathy levels are through the roof when I encounter a hurting person. I always try to relate something I've been through to the person so that they know that I can somewhat understand their plight.
But, I know that many times, in trying to help the person feel understood, I have missed out on listening to them. It was out of a heart of concern, but as it turns out, can actually be selfish.
Lord, help me to LISTEN with my ears, my eyes, my heart…