Welcome to this 31 day series where we will spend 31 days covering our homes in PRAYER!! We are also reading Radical Hospitality: Benedict's Way of Love
together and each day I will share a new quote from this amazing book. PLEASE join us in the comments section as we journey through learning to love others as Jesus loves us!
Read more details about this series and the book club here.
Read Day 1 here & print your October calendar of verses to pray.
Verse to Pray for Our Home
John 13:35
"By this everyone will know that you are my disciples, if you love one another."
Prayer:
Oh God, you know our hearts. You know that we struggle to love as You love. Help us. Fill us. Give us more of Yourself so that we can give more freely. By Your Holy Spirit at work in us, enable us to love outlandishly those you've put in our paths.
Radical Hospitality Book Discussion
Find book here: Radical Hospitality: Benedict's Way of Love
I would LOVE to hear from you in the comments! How are you liking the book? What struck you the most??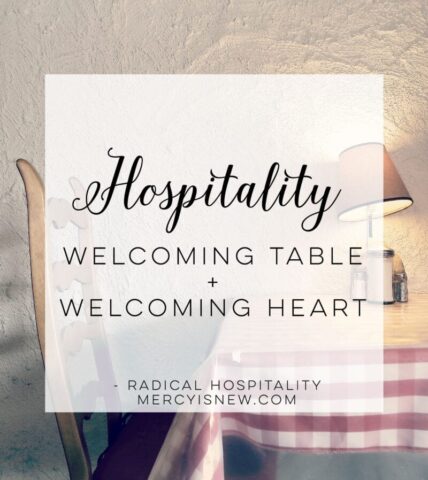 "The image of preparing a table, or preparing a place, is a good overall image for hospitality. In genuine hospitality, we work to make our entire existence a welcoming table, a place prepared for others to be at ease, to receive from us comfort and strength. Hospitality teaches me to work at becoming someone who is easy to be with, as either guest or host. Hospitality becomes a way of life as we become more open. It will not happen without preparation and unless you intend it to happen." Radical Hospitality, p. 149-150
We've talked a lot about how hospitality is NOT just about a pretty table or a Pinterest worthy home. Hospitality is more a matter of the heart, if we are going to truly treat others as Jesus would.
However, that doesn't mean it isn't a good and thoughtful thing to make preparation for our guests. Don't you feel loved when you walk into a room and you can tell you have been thought about? Maybe there is a fresh hand towel. Maybe they have your favorite kind of coffee. Maybe they lit a candle to make the home more inviting.
Those small gestures show that you care and that you were excited to have a guest in your home!
Take that a step further now…maybe you already have a welcoming home, now, how can you work toward having a welcoming HEART? And what does that even look like to you?