This week we have been learning more about the story, ballet and history of The Nutcracker. The girls have LOVED learning more about this story! Here are some things we have done this week!
We read several versions of the classic tale, noting several differences in the different books. Even the name of the main character was different in a few of the books!
I checked out a video of a ballet performance from Russia of the Nutcracker. The video was over 70 minutes long and I thought they would get bored with it quickly! However, Hannah just LOVED watching the ballet! She begged to watch it again after we watched it once! She knew all the characters and knew what was going on despite no words being said in the ballet! She really got into the character's roles and was aware of all the little details!
We also learned more about the country of Russia this week.
We also began listening to the classical kids story of Tchaikovsky as well as lots of his music, both online and on cd. Today the girls begged to put on their ballet leotards and skirts so that they could dance to Tchaikovsky's music in the kitchen. So sweet! They have surprised me by recognizing certain pieces from the Nutcracker, and especially a few that they are working on for their upcoming ballet recital!
We also decorated dancing ballerinas by giving them sparkly outfits for their performance. Notice the pretty buns on the ballerinas hair.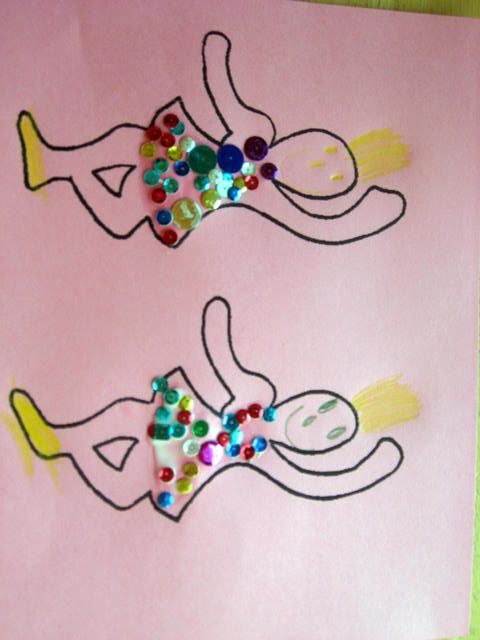 And finally, I gave each of the kids a toy nutcracker to play with this week. They all loved this, even Emily, who was not cooperating for pictures today!