Can you believe that Advent starts next Sunday, November 30th! It seems a bit early this year, but as always, I'm thrilled to pull out the Christmas tree, decoration, nativities and turn up the Christmas songs extra loud! A friend at church asked me to put together a list of my favorite advent resources, so I thought I would share that here too! This isn't really a complete list of all that is available by any means! These are just some special traditions that we do in our home! (I do want to add one disclaimer here: this looks like a lot! And it is! Remember that since we homeschool, many of these ideas are actually a part of our school day in the month of December! We don't do alot of other stuff in December, our focus for this month is entirely on the celebration of Christ's birth. So our schooling will consist of advent readings and devotions, baking and crafts for the most part!)
Advent Wreath
Our family has something sitting on a table called an Advent wreath. This isn't necessarily a wreath made from greenery, although it can be! The special thing about this wreath is that it has 4 candles around the circle of the wreath and 1 candle in the center. You light one candle on the first Sunday of Advent, then 2 candles on the 2nd Sunday of Advent, and so on. Then, on Christmas day you light all the candles around the circle and the white candle in the center!
Along with our advent candle lighting, we also read advent devotions when we light our candles. There are SO many resources available for doing this with your children. Some have devotions you can read each night (or whatever time of day, some families like doing it around the dinner table!) and some have devotions that you read once per week during the advent season.
Here is a picture of our girls and the advent wreath from 2 years ago!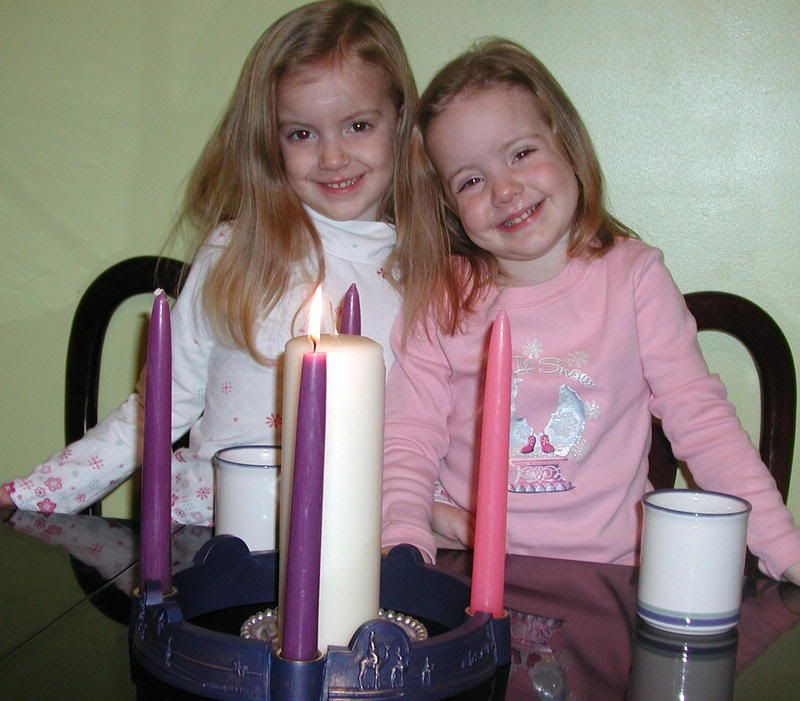 Advent Devotions Book
There are alot of books and devotionals geared toward children. One that has come highly recommended to us is called Jotham's Journey. This is a story that we will read a portion of each night (or morning) during the advent season. This story is about a little boy named Jotham who is traveling across Israel to find his family. He faces thieves, robbers and kidnappers on his journey, but also encounters wisemen, shepherds until at last He finds the baby Savior born in Bethlehem. (by the way, if you would like a free resource for devotionals, google "advent devotions for children" and you will bring up several resources, some you can print off for free)
Jesse Tree
The Jesse Tree is a really neat tradition centered around the story of Jesus – starting with creation! You can start the Jesse Tree on the first day of Advent or on the 1st day of December, depending on which list/book you use. Each day with the Jesse Tree you read a Bible story, starting with creation, leading up to the birth of Christ. The whole Bible tells the story of Jesus…and each day you hear a new part of the story.
After you read the Bible story/passage for that day, you add a "piece" to your Jesse Tree. Again, there are a lot of resources for this! But, what I do is we have a small Christmas tree (2-3 feet) in our playroom that is just for the kids for our Jesse Tree devotions and ornaments. Each day's story has an ornament or picture that goes along with the story, and we hang that one up each day.
This is the book I use, but there are lots of choices. I use this book because my mother-in-law gave this to me a few years ago…and what makes it special is that she did these devotions with my husband when he was little!
But there are many online resources for Jesse tree scriptures, devotions and ornaments that you can print off, color, laminate and hang on your tree! Or some people don't have an extra tree, they bring in a large branch from outside, set it in a bucket/jar and hang their ornaments from that! Or, I have seen felt trees and ornaments online as well! Here are a few of my favorite links for Jesse tree resources.
Jesse Tree devotions & printable ornaments
Jesse Tree scriptures and felt ornament templates (if you wanted to do a felt tree and ornaments, these are simple pictures that you could look at and cut out yourself)
Countdown to Christmas Day ~ Advent Calendar
We also have an advent calendar that we add a piece to everyday up until Christmas Day. The one we got has a picture of a stable on it, and we add one piece of the nativity story each day until on Christmas Day we add the baby Jesus! We got ours from cbd.com (great site for purchasing things like this at a good price!) and here is the picture from cbd
Happy Birthday, Jesus party
On Christmas Day we make a cake and decorate it together and write "Happy Birthday, Jesus" on it! This is fun for the kids, but also helps us to remember that we are celebrating Jesus birthday in the midst of the presents, family, fun and food. We usually sing happy birthday to Jesus too, and blow out His candles!
Other Christmas books
You may remember last year we read a lot of great Christmas books throughout the month of December…we read one book each day and did a corresponding activity. I thought I would re-post those links in case you are looking for a few good Christmas books. You can find those book lists HERE.
I did want to list a few of my favorite Christmas children's books that pertain to the birth of Christ.
A new one that just came out last year and I hadn't read until recently is called Mortimer's Christmas Manger. This book is SO cute!! In fact, I'm going to plan a unit for the first week of December around this book!
Children's books about Jesus birth
This is the Star
The Christmas Miracle of Jonathan Toomey (older children)
The Legend of the Candy Cane (which I also wrote a unit for and it can be found HERE on HSS)
Santa's Favorite Story
The Pine Tree Parable
One Wintry Night (a longer book, you could probably read a portion each day throughout the month of December, it was written by Ruth Graham Bell)
Mary's Treasure Box
My Birthday, Jesus Birthday (this book is out of print, but if you can find it, it is SO CUTE, talks about the differences between our birthdays and how we celebrate and Jesus birthday)
Christmas Music
I also thought I'd mention one more resource that I have enjoyed using. As you know, I love music, especially Christmas music! While I love the fun Christmas songs that I sing with my kids, I also wanted them to learn some of the traditional Christmas carols from the hymnal. A great resource for teaching your kids hymns is called "Hymns for a Kid's Heart." They have different volumes of their book, and one of them is just Christmas carols! It is called "Christmas Carols for a Kid's Heart."
This book goes through maybe 10-12 Christmas carols and tells you about the writer of the hymn and has a devotion to go with each carol. The book also comes with a cd that has children singing all the Christmas carols on it. One of the reasons I love this book is because Joni Eareckson Tada wrote the devotions that go along with each carol! I plan to spend time learning one Christmas carol (and reading about it) per week during December.
Advent Treasure Hunt
Ok, one last idea I leave you with, I know this entry has gotten WAY too long!! I've seen this before but not done it yet, my SIL did it last year and her kids loved it, so I may tweak this idea a bit to fit in with what we are already doing (Jesse Tree, etc.) and blend the 2 together somehow! Anyway, it is an advent treasure hunt…each day you hide a "clue" for your child to find. When they find it, something is written on it that you will do that day…read a scripture, sing a Christmas carol, a craft, etc! I think what adds to the fun is the HUNT. So, if I get my days planned out, I may make my own hunt telling what we will be doing each day!
HERE is a list of scriptures and ideas already typed up for you, if you would like to try the Advent Treasure hunt with your kids!