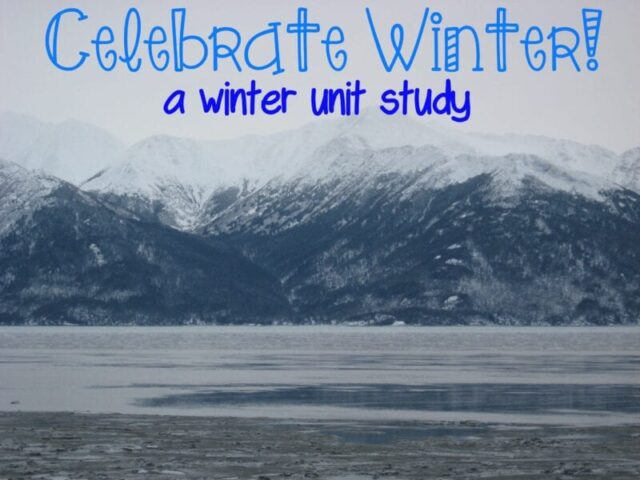 We are about to embark on a cooooooold journey studying about winter in our home! For the month of January, we are going to be spending an extended amount of time learning about, crafting, reading books about and *hopefully* playing IN the SNOW!!! Even if we aren't blessed with real snow, I have come across so many fabulous ideas for learning about snow, that I'm positive our SNOW SCHOOL will be a blast!This really is a LOT of information. I hope to be able to share throughout our unit specific areas more in depth. For now, here are the ideas and resources I will be using. (I've mentioned this before, but during the course of our unit we may not get to every single item listed here – and that is ok! I like having a long list to choose from, which also allows us to take a little longer on the unit if we so choose.)
A Few Books about Snow
One Winter's Day

One Snowy Night

Stopping By Woods on a Snowy Evening

When Winter Comes

Animals in Winter (Let's-Read-and-Find-Out Science 1)

Tiny Snowflake Picture Book

Snowflake Bentley (Caldecott Medal Book)
A few snowy links and resources!~
Lapbook for Snowflake Bentley
unit study (Snowflake Bentley is a FIAR vol. 4 title) ** I plan on using bits and pieces of these lapbooks to use in our Winter study notebook**
~
Lapbook for Stopping by Woods
on a Snowy Evening (Stopping by Woods is a FIAR vol. 1 title)
~
Lapbook for Katy and the Big Snow
(katy is a FIAR vol. 1 title)
~ Using a few pieces from this
Weather Lapbook
, we will learn about the different types of clouds and which ones form snow (we will use the snow words and cloud type mini-books)
~ A great website for our snow school ~
The Snow Primer
~ Winter
word puzzles and games
~ We will read, discuss and use for copywork Psalm 51. We will read the entire Psalm and discuss its meaning. We will write out verse 8 that says "wash me and I will be whiter than snow."
~ Here are some great
winter animal coloring pages
!
~ Look at this great page with all kinds of *unique*
snowflakes to print and color
!
~ Some really neat high resolution
photographs and images of snowflakes
…taken by Snowflake Bentley himself!
~ A
video of a news story on Wilson Bentley
, it is about 3 1/2 minutes long. (first click on the format in which you want to watch the video, don't click on the "eye of our atmosphere" link, it doesn't work.)
Snowy Crafts & Projects
~ Is this felt snowman not the cutest thing ever?? Chasing Cheerios has inspired me! (she also made a gingerbread set and a turkey set like this one!) I want to make this snowman set for the kids for our Snow School in January!!
~ make paper snowflakes and hang in all the windows
~ Speckled Egg has some really cute marshmellow snowmen lollipops! This would be a fun (and yummy) treat to have one day! (this also makes me think we should have a SNOW PARTY!! Wouldn't that be fun??)
~ Julie K has some very pretty winter night scenes using black paper, cotton and other collage materials.
~ A super, fun, fabulous idea that someone shared on a message board is to create your own ice sculptures! Really, this idea has me so excited!! Check out the Ice-Castle Creations that you can do in your own backyard. In a nutshell, take all the empty plastic containers you can find (lots of them!) and fill them with water, put them on your back porch overnight to freeze. (if your porch isn't cold enough, try the freezer!) Then, help your kids to take the ice out of the containers, give them some salt (for the ice pieces to stick together) and watch what they can build! There could even be a science lesson in there somewhere, regarding the salt and ice!
~ Make a crystal snowflake from Borax! Here are some directions I found for this science experiment. Here are some more directions with a science explanation to go along with it. Also, Melissa shares pictures with us from when they did this experiment.
The Fine Arts
~ We are going to learn the hymn "Whiter than Snow" for the month of January. Of course, this will also tie into how Jesus washes our sins away and makes us pure ~ white as snow!
~ We will be keeping a "winter" journal (do you sense that I am loving the journal thing? We did a Thankful journal, Advent journal and now a winter one!) In this journal we will do 1)copywork with Bible verses and poems about snow 2)draw winter pictures 3)draw snowflakes 4)any other winter nature items will go in this notebook as well 5)our lapbook components will go in this notebook too
Facts & Quotes about Snow (to be used for copywork)
~ Snowflakes start as ice crystals that are the size of specks of dust.
~ Snowflakes have 6 sides, forming a hexagon shape.
~ As snow falls, snowflakes can connect to each other to form bigger snowflakes.
~ The snowiest state in the United States is New York with an average of 94 inches each year.
~ Wilson Bentley was known as the "Snowflake Man;" he photographed snowflakes under a microscope in the 1920's.
~ "I found that snowflakes were miracles of beauty; and it seemed a shame that this beauty should not be seen and appreciated by others." Wilson Bentley
~ Some snowflakes are wet and sticky, while others are light, dry and fluffy.
~ Snowflakes begin inside clouds.
~ A snowflake is made up of one or many hundreds of crystals of ice.
Lyrics to Whiter than Snow (hymn we will learn to sing and write for copywork)
1. Lord Jesus, I long to be perfectly whole;
I want Thee forever to live in my soul.
Break down every idol, cast out every foe
Now wash me and I shall be whiter than snow.
2. Lord Jesus, look down from Your throne in the skies
And help me to make a complete sacrifice.
I give up myself and whatever I know
Now wash me and I shall be whiter than snow.
3. Lord Jesus, for this I most humbly entreat;
I wait, blessed Lord, at Thy crucified feet.
By faith, for my cleansing I see Your blood flow
Now wash me and I shall be whiter than snow.
4. Lord Jesus, before You I patiently wait;
Come now and within me a new heart create.
To those who have sought You, You never said "No"
Now wash me and I shall be whiter than snow.
Chorus:
Whiter than snow, yes, whiter than snow
Now wash me and I shall be whiter than snow.