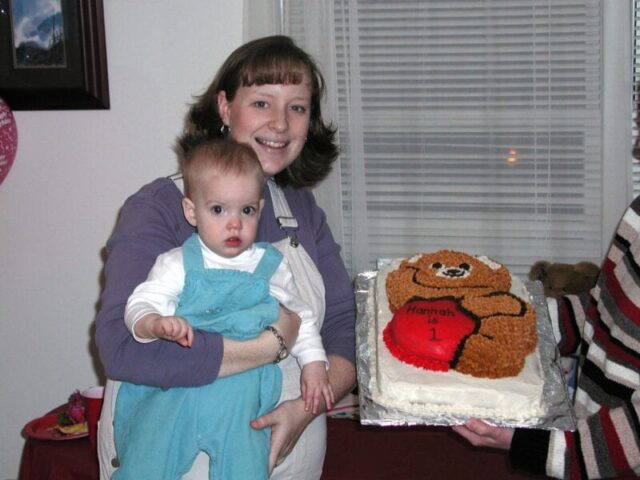 We have a birthday coming up in our household next week!! Can you BELIEVE that my first-born child is going to be SEVEN?? Seems impossible! (Don't you love all these birthday pictures from years past?) But, it's true! And, I decided to try (a little last minute for me) to pull together a fun unit study on birthdays! Specifically, Hannah's birthday! The actual writing and lessons will be mostly for Hannah, but I'm sure the other 2 will enjoy reading the birthday books from the library and working on the activities.
First, I found this blog with a birthday unit study and TONS of great ideas! So, I'm stealing some of these and will be listing all the fun things we are hoping to try next week!
BIRTHDAY BOOKS 
*What's Cookin? A Happy Birthday Counting Book by Nancy Coffelt
*It's My Birthday by Heidi Goennel
*A Birthday for Cow by Jan Thomas
*It's My Birthday! by Pat Hutchins
*Snail's Birthday Wish by Fiona Rempt
*Whopper Cake by Karma Wilson
*Happy Birthday, Jesse Bear! by Nancy White Carolstrom
*Buzzy's Birthday by Harriet Ziefert
*Annie and Snowball and the Dress-Up Birthday by Cynthia Rylant
*Happy Birthday, Kit – the American Girl Collection
BIRTHDAY SCRAPBOOK IDEAS
*I saw the idea to create a scrapbook of your child's birthday. I am thinking of getting a small-ish scrapbook and letting Hannah work on it on her own! Letting her decide what goes on each page, etc. (this will be hard for me as I am usually too perfectionistic about stuff like this wanting it to be just right! But Hannah will LOVE it!)
*Put birthday cards we receive into her scrapbook
*samples of wrapping paper from her gifts
*all the pages we work on this week for "birthday school"
*Have Hannah draw a self-portrait
*hand and foot prints from this week! (this will be great fun! We'll have to go back and look at her baby book to see how small her feet and hands were when she was born!)
BIRTHDAY ACTIVITIES/IDEAS
*An idea to incorporate writing, letter writing and addresses is to let your child address their invitations and mail them! Now, we have already given out our invitations…but, I'm thinking this would be a great idea to use with our thank you notes! I am going to let Hannah write down the addresses and put on the return labels and stamps. I think she'll love this!
*I want to print out pages for Hannah to write in the answers to: My Favorite Birthday present, What do you do on your birthday? What is your favorite thing about having a birthday?
*Hannah is turning SEVEN. I think I will have her list 7 things about Hannah!
*Learn to say and sing Happy Birthday in Spanish! Since spanish is the language we are working on, I thought this would be fun! (the blog I listed above suggests finding a video on youtube of the singing in that language! Great idea!)
*Make a bar graph of all the birthday months in our household.
*Do math with birthday candles! (I would probably have to buy several packages to do this, we will see if it's in the budget, but it is a great idea!)
*Look online to find out anything important or special that happened in the world on her birthday! (You can watch a video of your special day on This Day in History!)
*A great birthday devotion! This is even so perfect for us right now, with Hannah having asked Jesus to come live inside her and become a Christian!
*Pull out Hannah's baby book and look through it together
*write down her height/weight from birth and then from today, shoe size, any other measurements
*put in a few pictures of Hannah from the past year – mentioning her interests – ballet, her first Upward basketball season
*A few birthday coloring pages: birthday cupcake, birthday cake, lots of birthday coloring pages, child's age # with candles, birthday cake – your child cuts out/pastes on candles
*This page has a few birthday word searches (and more coloring pages) the birthday girl around here loves word searches!
*Here are a few birthday color-by-numbers, another thing this birthday girl loves!