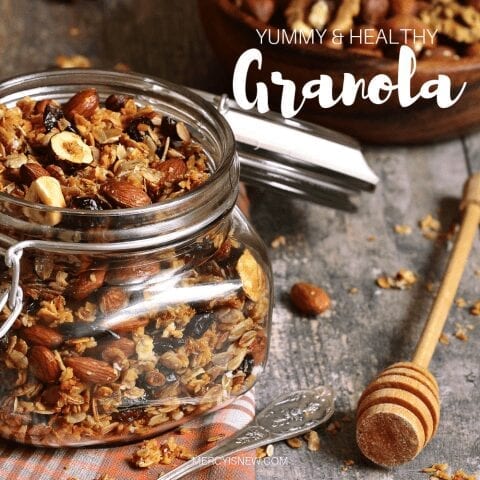 Granola is one of my FAVORITE things to eat!! Especially now that I know the ingredients are good and healthy for you…
The recipe that I use came from
Elizabeth
originally…and I tweaked it a bit. (Speaking of healthy, this recipe includes coconut oil, have you read about all the
benefits to coconut oil
? WOW, I'm using this stuff more and more! Granola is one of the easiest ways to use it!)
Here are the ingredients that I use:
6 cups rolled oats
1 cup chopped almonds
3/4 cup coconut oil
1/2 cup real maple syrup (I would think honey would work, too!)
1 tablespoon vanilla extract
1 tsp cinnamon
1/2 teaspoon salt
1/4 cup (packed) brown sugar
Up to 1 cup shredded unsweetened coconut
1 cup raisins
Instructions:
Preheat oven to 325ºF.
First, I mix the "wet" ingredients together: coconut oil, maple syrup, vanilla and also the cinnamon.
Separately, I mix all the "dry" ingredients: oats, almonds, coconut, salt. (Save the raisins and brown sugar for after it is baked.)
Next, mix the wet and dry ingredients together and spread onto a large cookie sheet.
Bake for 40-45 minutes, stirring every 15-20 minutes.
Once you are finished baking it, sprinkle on the brown sugar and add raisins!
Yum!