It all started in a garden. I never realized the importance of gardens in the Bible until recently. The first man. The first woman. The first sin. The fall of man…Our need for a Savior started in a garden.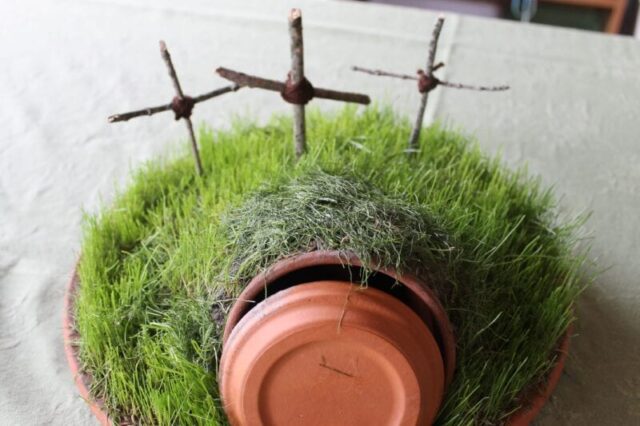 Our Savior spent many hours in prayer to the Father…in a garden.Then Jesus went with his disciples to a place called Gethsemane, and He said to them, "Sit here while I go over there and pray."
"My soul is overwhelmed with sorrow to the point of death. Stay here and keep watch with me."
On Good Friday we will place our cross in the garden.
The angel said to the women, "Do not be afraid, for I know that you are looking for Jesus, who was crucified. He is not here; He has risen, just as He said."On Easter Sunday, we will roll the stone away to find an empty tomb!Our inspiration came from the lovely garden found here.
While growing our garden together, we are learning the old hymn, In the Garden.
I come to the garden alone
While the dew is still on the roses
And the voice I hear falling on my ear
The Son of God discloses.
(refrain)
And He walks with me, and He talks with me,
And He tells me I am His own;
And the joy we share as we tarry there,
None other has ever known.
He speaks, and the sound of His voice,
Is so sweet the birds hush their singing,
And the melody that He gave to me
Within my heart is ringing.
(Refrain)
I'd stay in the garden with Him
Though the night around me be falling,
But He bids me go; through the voice of woe
His voice to me is calling.