Today we learned that Mercury has lots of craters! So, we took turns dropping different objects (marbles, rocks, pennies) into a bowl of flour to show the craters.
Dropping our "asteroids" into Mercury to create craters!! 🙂
(asteroids were marbles and rocks dropped into a bowl of flour)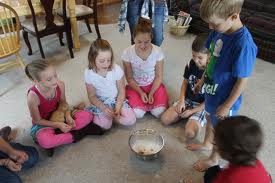 We also made salt dough models of the  planet Mercury. We gave each child a ball of salt dough (we had already made) and let the kids press craters into their dough. Some made huge craters, some made small ones, they all looked like the planet Mercury!