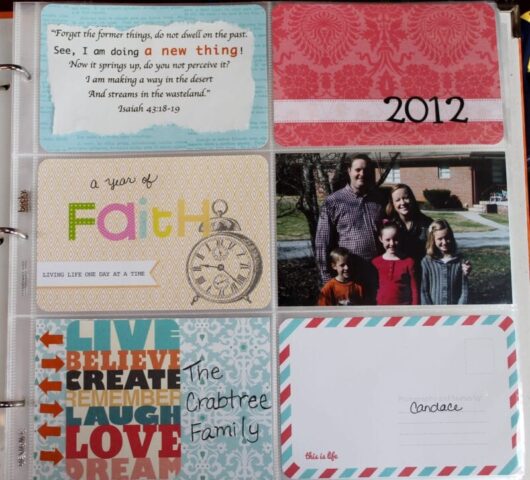 **I set this post before I left for Belize! I was so excited to share my title page with you! 🙂
I love how my cover/title page turned out this year! I really didn't spend *that* much time on it! But just a few little things made a BIG difference in just personalizing the page a bit!
I love that I was able to incorporate the year, my word of the year, the verse God gave me to start this year AND a new-ish picture of our family! I love how it turned out!!
**Project Life was created by Becky Higgins and is a very simple, but creative and beautiful way, to document your family's everyday moments. The simplicity of it is why I love it so. You can click on my Project Life category to see all my posts on this topic. If you would like to see more inspiration for very creative ways to add to your Project Life album with embellishments, look at this list of links. To purchase Project Life, you can go to Amazon and look around at the options. Remember, I am not an affiliate for Project Life, however I do get a few cents from each purchase on amazon. The new kits for this year are the Clementine Edition
and the Cobalt Edition
. When I can, I try to link up with Jessica at The Mom Creative for her Project Life Tuesday posts! You can look here for lots of inspiration, too!