A few months ago I thought it might be a fun summer study to observe ANTS and learn about them!! Well, I guess I ordered before the hottest summer ON RECORD in our area…so I didn't get the ants til last week.
But, it doesn't matter the season…watching these ants is fun ANY time of year, in our opinion. 🙂
We really have had fun observing these little creatures!! (I will say that the
GEL ant farm
 we did a few years ago seems to be EASIER and less messy than the
sand farm
…just in case you are wanting to try one out!)
The very first thing we did with this unit study was to memorize Proverbs 6:6.
"Go to the ant, you sluggard!
Consider his ways and be wise."
Proverbs 6:6
This is just a great verse to memorize and discuss with children!! We learned what the word sluggard means, we discussed laziness. We read on to the next verse to find that ants don't need commanders — they know what they are supposed to do and DO IT without being told! Hmmm, sounds like some little creatures in my household need to learn from the ants!
We also wrote this verse for copywork each day of the week that we studied ants.
Of course, if you are going to learn about ants, you must discuss  homophones and read the beloved FIAR title, Truman's Aunt Farm
. Oh how I love this book. We discussed homophones one day and the girls really got into this lesson and discovering new homophones that they already knew about and could tell me.
The ant lapbook from HSS goes perfectly with this study of ants! There are also some resources for Truman's Aunt Farm on HSS that you can find here.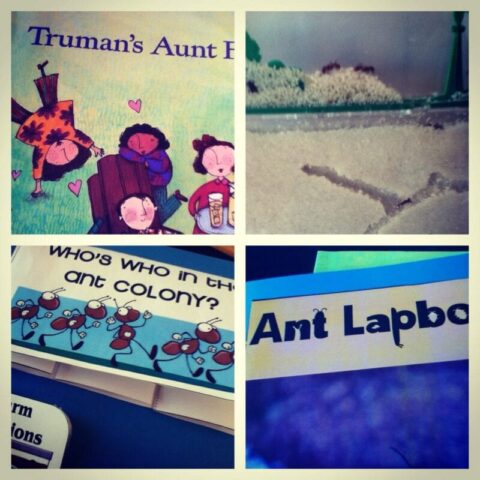 To decorate our lapbooks a little bit we created fingerprint ants! They turned out super cute! We discussed that ants have 3 main body parts to their anatomy – and we made these with our fingerprints. The head, the thorax and abdomen. We learned all about the different types of ants and the different jobs they do. We watched our own ants and figured out what jobs they had!!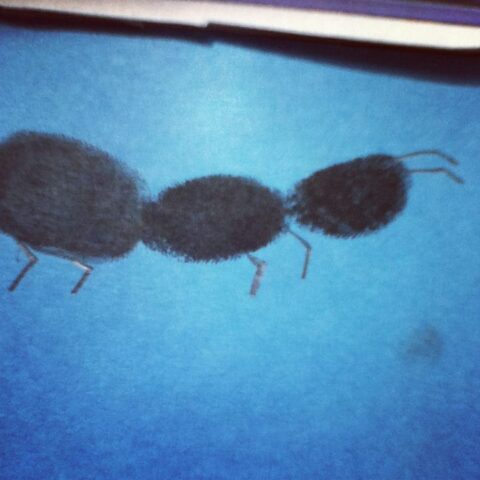 We had a great time learning about ants!!
Here are some other book titles we read:
Ant Cities

One Hundred Hungry Ants

Ant and Grasshopper

National Geographic Readers: Ants

Are You an Ant?