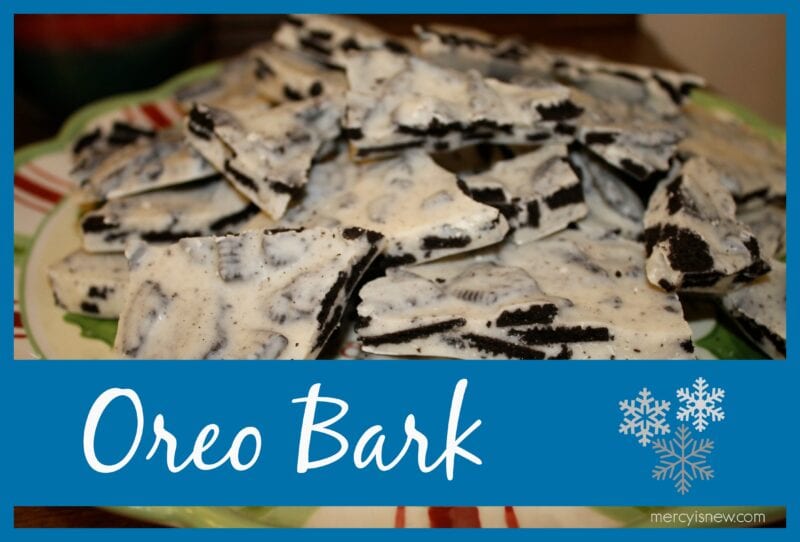 Oh my, ya'll.
This treat is so yummy and so easy!! Great combination for Christmas time parties and such!! I first saw this recipe on pinterest, originally pinned from this site. The recipe didn't make quite enough for me, so I double (or triple) it every time I make it, as it is usually to take somewhere for a gathering. We've already made it 4 times!
The original recipe calls for Ghiradelli white chocolate chips, we used the almond bark instead. It was still fabulous.
Ingredients
1 whole package almond bark (usually these packages are 24oz, but this recipe is very forgiving, it doesn't have to be exact)
1 package Oreos (minus maybe 2-3 cookies if you want to be exact!)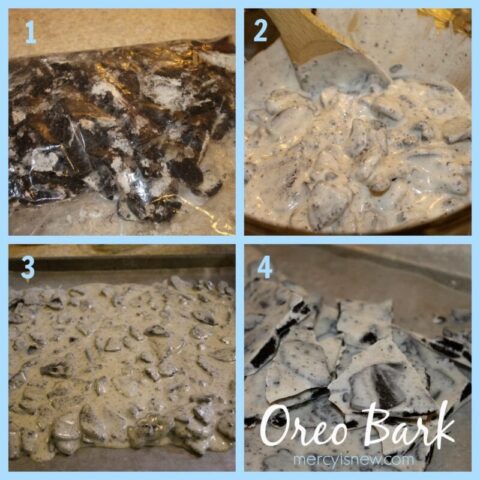 Instructions
1. Put all oreos in large ziplock bag and crush. You don't have to crush to teensy tiny pieces, you can leave chunks.
2. Melt almond bark or white chocolate. (I did not use double boiler, I did this in microwave!)
3. Mix melted bark and crushed oreos. (Hold back 2-3 of the oreos if you would like to sprinkle crushed oreos on top, we did not do this.)
4. Spread mixture onto a cookie sheet lined with parchment paper. Do not forget the parchment paper or your oreo bark WILL stick to cookie sheet and not work quite as well! (ask me how I know! ha!)
5. Put cookie sheet in freezer just long enough for bark to harden.
6. Break bark into pieces!
**Variations:  One night we also used the red Christmas oreos which made the whole bark mixture red. Keep in mind, it will give you a gray-ish tint due to the crumbling of the oreos. This is why the original recipe called for sprinkling crushed oreos on top – to make it prettier. Generally speaking, when oreos are involved, I'm not concerned about pretty. 🙂repost from 2011 ~ I'm going to repost some of my favorites from past years on the blog this year. no need to invent the wheel…finding my favorites to share with you again!