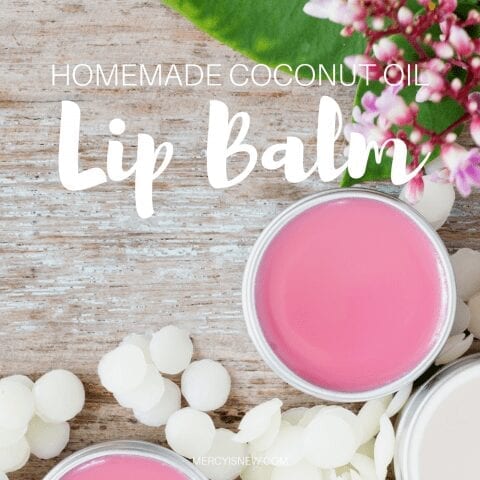 After trying the wildly successful homemade Coconut Oil lotion, I wanted to give lip balm a try! Lotion and lip "stuff" are 2 things that I have spent lots of money on over the years. I love a smell good lotion and in years past have always taken advantage of big sales at places like Bath & Body Works.
But, in the past few years, I haven't frequented those places anymore for 2 reasons: 1) too much money for something that isn't *essential* and 2) my MIL cannot handle the chemicals and fragrances, so we have mostly stopped using/wearing things that have any smell to them.
Along those same lines, chapstick, lipstick, lip glosses from Burt's Bees and other more "natural" options are SO expensive!!
So, when I saw these recipes – with several of the same ingredients I had already used in my lotion – I decided to give it a try!!
My first 2 attempts were NOT what I had in mind. Mostly they were way TOO HARD. This recipe worked well for a tube chapstick type lip balm, but not what I was wanting. I was wanting something softer and glossier, just my preference. I wanted something I could rub on with my fingers.
My third recipe attempt was based on Fimby's recipe, but with a few changes just based on what I had on hand.
So, here is the recipe that I ended up with:
Ingredients
3 tsp Beeswax (I use the pellets, I think they melt faster/better)
 6 tsp coconut oil
1 1/2 tsp shea butter (next time I'm going to experiment with cocoa butter, just because I like experimenting!!)
1 T castor oil (for more "gloss," I may add even more next time)
1 tsp honey
1/2-3/4 tsp essential oil (I like fruity – like Tangerine Essential Oil – lots of people want the  Peppermint lip gloss, but I don't prefer this, so I just used another scent I had on hand. Or use NO scent at all!) 
Sliver of color (I used a tiny sliver from a Burt's Bee lipstick to tint it a little pink)
Directions
1. I melted my wax, oil & butter in a glass pyrex measuring cup in the microwave. Heat til all is melted and can be stirred together.
2. Remove from heat and add castor oil, honey & any scents/colors you wish
3. Stir and stir. 🙂 The honey doesn't want to mix thoroughly with the oils, but keep stirring and you will get it combined pretty well.
4. Pour fairly quickly into your containers. I prefer the little tubs
 as opposed to the tube containers, but it's all up to you! If you do use the tubes, I might recommend some glass droppers to squeeze your lip gloss into the tube.
So simple! Basically, you just melt, stir and pour!!
**full disclosure: this is not a sponsored post, I just tried out these recipes on my own. However, the links provided are affiliate links. Thank you for each and every purchase through my links, they help us tremendously!