Anytime I see a new art product out there, I immediately want to try it with Hannah. Art is her love language. So, I was very excited to review this art project DVD from See The Light, called Dreams of Joseph.

See the Light is a company that desires to share a love for art and a love for Jesus with children by bringing an art teacher right into your home through their dvds! I love the heart behind this company.
My children love art projects. I love finding great projects for them to do. But I am not always good at teaching them to do these projects.  So I loved being able to bring the art teacher, Pat Knepley, right into our school room to show us how to do this Dreams of Joseph art project.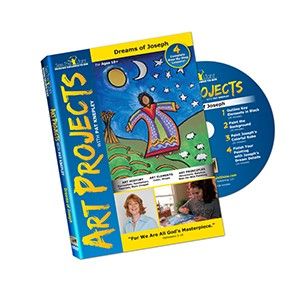 Pat Knepley is a wonderful teacher! I loved everything about the 4 lessons on this DVD. She talked the kids through each step, as well as painting each step herself so the kids could see her do it! She shared bits and pieces of the story of Joseph as they painted, and each of the 4 lessons on this dvd had a portion of Scripture that she shared with them! I love this aspect of these art lessons!! This particular project we completed was for ages 10 and up, but there are projects for all age groups available!
Here are my kids finished products!! (keep in mind, this project was for ages 10yrs and up, but Caleb still did most of the lesson with us!)
Hannah ~ 11yrs
 Emily ~ 10yrs
 Caleb ~ 8yrs
This particular project, Dreams of Joseph, can be purchased for $12.99, which includes 4 sessions. Each session was 20-40 minutes long. You can also purchase Art Class dvds which are boxed sets of lessons. That is on my wish list now. 🙂
If you'd like to read what other homeschool moms are saying about See the Light art products, click over to the TOS Crew blog!