{this post contains affiliate links. thank you for supporting this blog.}
Prayer Warrior Mom: Covering Your Kids with God's Blessings and Protection
, by Marla Alupoaicei, is a book that I was recently blessed to review through Booksneeze! Praying for my children is one of my passions. That doesn't necessarily mean that I am good at it or do enough of it, but I believe that prayer is so vital to our walk with God.
I have read several books on praying for our children and recently wrote about 5 of my favorites. I really love reading books about prayer because they always motivate me and inspire me to get on my knees more often. There are times I may not agree with 100% of what is in the book, but it will still help my prayer life.
This book contains 15 chapters that will encourage you to not neglect this powerful act on behalf of your children.
One of my favorite chapters in this book is about persistence in prayer. This is a subject I struggle with, and I'm sure a lot of you do, too! God's timing is SO different from ours…and we trust Him. Yet, we don't always LIVE and ACT like we trust Him! We want answers NOW. We want to see changes NOW. But, that's now how God works. Nor do we always (or even usually) see the big picture.
God is faithful. And part of PERSISTENT prayer is trusting Him enough to keep lifting up those requests to Him. Even if you've prayed them time and time again. He hears. He knows. He loves.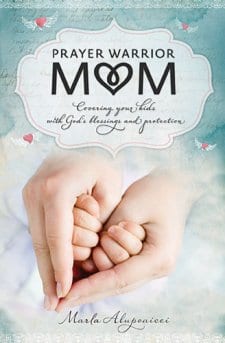 Have you clicked over to see  my 5 Favorite Books for Praying Moms post? I hope you will be blessed!