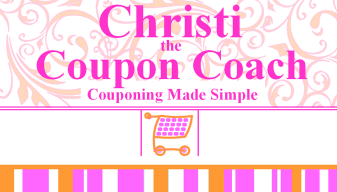 If you've followed my blog for long, you know that I have tried various things over the years to live more frugally. My husband, in fact, tried doing coupons & drugstore sales off and on for awhile. So, I was excited to receive Christi the Coupon Coach's ebook called Couponing Made Simple for review! I hoped she would have some new tips to teach us that would help us save even more!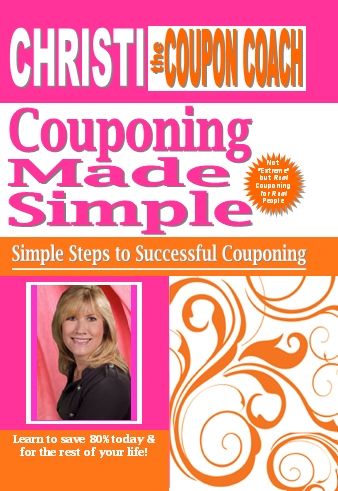 I excitedly started reading this ebook because groceries are SO expensive these days! I can't seem to stick to our budget for long. We have also started eating more healthy foods, including lots of real foods and organic foods, so I wasn't sure if this couponing thing would really work for us. In the past, I haven't noticed a lot of products for the kinds of things we eat. And oftentimes, I just find better prices at food co-ops or online.
So, the big question I had was…
Can you save money using coupons IF you are eating more healthy, organic foods??
Christi's book takes you through some simple steps to help you to 1) begin collecting coupons and 2) find the deals in YOUR area with YOUR specific stores you shop at.
I will be honest. For us, we didn't find a lot of savings on foods. But, we did find that we can save on toiletries if we are willing to use various brands. Now, I have been trying to do less chemicals in my home, but the girls in our home still use regular shampoo, we still use regular deodorant and toothpaste. So, these are 3 items right off the bat that we did save on! Most of our savings in the few weeks we tried this was Colgate toothpaste, Speed Stick deodorant, things like this.
Don't get me wrong, every little bit helps. We are thankful to get these toiletry items for very cheap or almost free prices!! We live in a tiny town. Walmart and Food City are my only 2 grocery stores, we do have more options if we drive a little farther. Several times I found a deal listed online and the coupons you needed for that deal were not in the insert we got with our newspaper! Bummer!
The question comes when you need to ask yourself if the clipping and purchasing of multiple newspapers is worth saving on just a handful of items?? I don't know. That is something each family has to decide for themselves. Each newspaper in our area on Sunday is $2.00 and in this ebook it is recommended that you buy ONE per family member. We started out by purchasing 2 newspapers and then also collected coupons from my mom.
Couponing can be a great thing! I see lots of families saving a lot on their grocery bill. But, when you eat mostly meat and veggies for dinner every night, you don't find a lot of savings on those items with coupons. I do think, if you are wanting to save some money, you should check out couponing! This ebook will help you get started, especially if you've never done it before. Each family needs to decide if it is worth it for you or not!
The price of the paperback on Amazon is $18, the Kindle edition is $4.99. If you'd like to read what other families are saying about Christi the Coupon Coach, please click over to the TOS Crew blog! Also, if you'd like to keep up with Christi's favorite couponing sites, go to this page on her site.