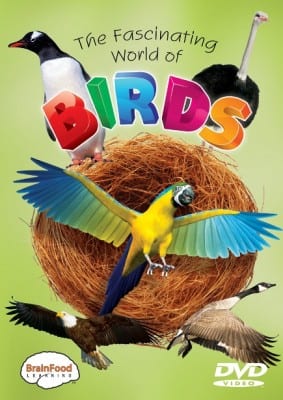 We were so excited to review The Fascinating World of Birds from the BrainFood Learning company! As you may know, if you've been reading my blog for long, we are big nature study fans, especially learning more about birds in our own backyard! This DVD was perfect for any family wishing to learn more about birds. I am a huge fan of nature study with children and feel that it is so important. This is just one small way to tie in the outdoor nature study with multimedia learning!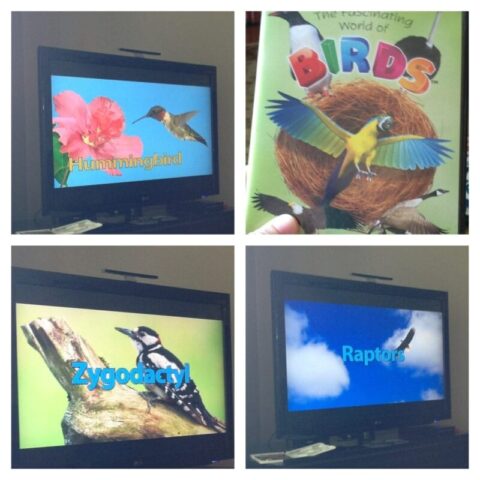 In the collage above you will see several shots (from my phone) of the various types of things shown in this DVD. We learned about people who study birds (ornithologists,) as well as types of birds, unique facts about birds and much more! Because we have learned a lot about birds before, I felt like this dvd was a great review for my kids and really helped cement some of the facts we've learned in years past!
There were also some review questions at the end pertaining to each section in the DVD. My most competitive child especially loved this part! 🙂
This DVD was very well done and we enjoyed watching it together. My kids are 11, 10 and 8, so this dvd definitely isn't just for smaller children.  I think for smaller children, this would be a great way to introduce them to some new vocabulary. But for older children, it's a great way to review if you've done lots of nature study in your home before. There are also DVDs in this same series on insects and mammals!
This particular DVD sells for $14.99 on the BrainFood Learning website.  And they also have a few previews on youtube if you would like to take a peek before you purchase! Also, the company has recently released lesson plans to download for free that go along with these DVDs! Check them out here!
If you'd like to read what other families think about these DVDs, please check out the TOS crew blog!