I don't mention this often enough, but the other night the Compassion Bloggers had a twitter party and I felt prompted to share.
Do you sponsor a child through Compassion? We've had our precious Keneth for several years now…he really is a part of our family. When we receive letters from him we squeal with joy!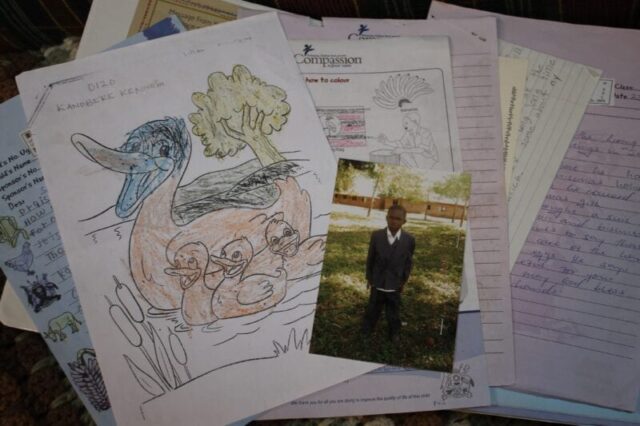 For me, as a parent, it is so important that I teach my children that the world is bigger than just our little home in east Tennessee. I want them to know how blessed we are and how God blesses us to BE A BLESSING.
This picture that Emily is holding is one of my most favorite pictures ever!! It was 2 years ago, I believe, when we sent Keneth a birthday gift (you send Compassion money and they give the child a gift.) Well, not too long after his birthday, we received this picture in the mail. Compassion had purchased Keneth a CHICKEN for his birthday!! Oh how I cried looking at this picture. Knowing that our family is impacting this child and his family for good just means more to me than I can say.
If you read my blog and do NOT sponsor a child through compassion, I am asking you to prayerfully consider. I am asking you to help change the life of a family on the other side of the world for $38 a month. For ONE trip out to eat, we can change the life of an entire family FOREVER.
I am also asking you to consider sponsoring through my link. I would LOVE to be able to know that my blog posts make a difference. I would love to know that some of you reading are praying and joining me in this fight for children's lives around the world. AND I would LOVE for Keneth's family to have another item – like the chicken – that they could receive when one of MY READERS sponsors through MY links!! How amazing is that?? Compassion has started offering rewards to bloggers by giving us individual links. When one of YOU sponsors a child through MY links, my  compassion family (Keneth) will receive a gift!! AWESOME!!
Will you pray about sponsoring a child?
More Helpful Links
Are you a fellow blogger? Join the Compassion blogging team!!
Blogging for Compassion is just one way that I use SOCIAL MEDIA for GOOD!! Read 10 ways to use social media for good.