I was really excited about this next review that I was blessed to be a part of!! The NIV Homeschool Mom's Bible from Zondervan!! Woo-hoo! My husband kind of chuckled when I opened the package and said, "there's a Bible for everyone!" And ya know what? That is TRUTH. God's Word IS for everyone! And if putting the word 'homeschool' on the front will enable more people to purchase and READ and SAVOR the Word of God, I say go for it!! I also LOVE the fact that there are enough of us homeschooling in 2013 that they would even consider making a Bible just for us! 🙂
I love a lot of things about this Bible. I love the cute cover. I love that you can purchase NIV or KJV. NIV has been my favorite for years…I try to switch and always come back to it. I think it's because I have so many passages memorized in the NIV that it just feels like "home" to me. I also love that there are 365 devotions in this Bible! You can sit down on ANY day and have one ready to go.
The devotions in the Homeschool Mom's Bible are written by a homeschool veteran, Janet Tatman, who has 25 years of homeschooling experience! The devotions that I read during this review period were very applicable and spoke directly to me as a homeschooling mom.  So often, regular "mom" devotions don't speak to my situation very much, but these devotions are sure to meet the heart of most homeschool moms I know.
I think my favorite part of the Bible and the devotions are the short prayers at the end of each devotion. There were a few times that I felt like the Lord was speaking directly to me through those prayers…again, because the author is a homeschool mom herself, she wrote prayers that so many of us can relate to in such a personal way.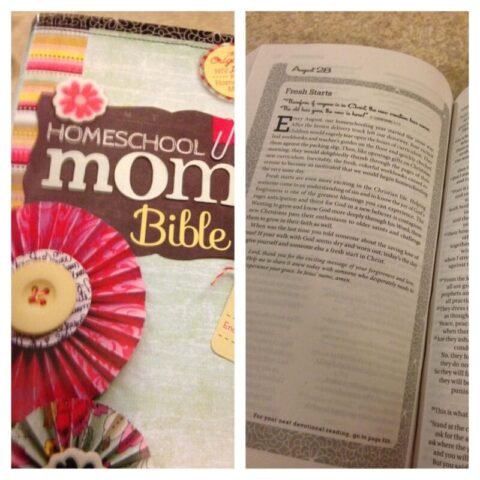 This particular Bible that I received is hard back and sells for $34.99 on the Zondervan website.  You can also purchase with a leather cover, which is what I would love to get next time!! They have a pink and a turquoise colored leather covers available.
If you'd like to read what other homeschool moms are saying about this Bible, please check out the TOS Crew blog!