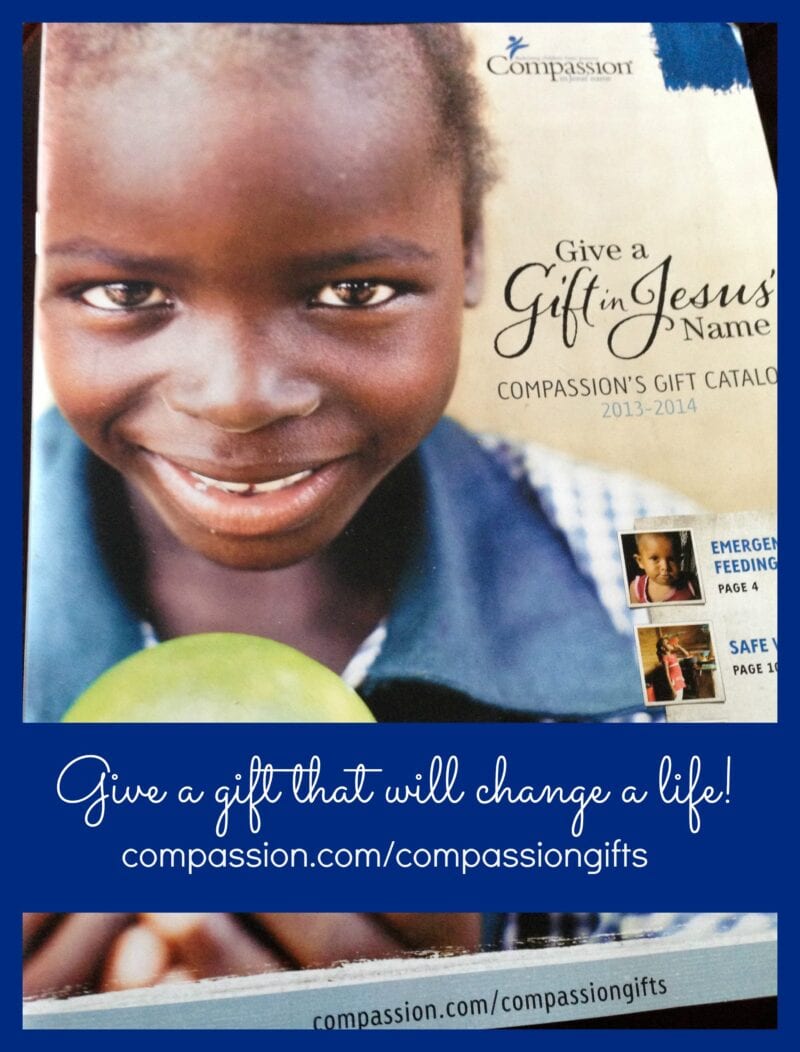 Did you know that you have the power to give a Christmas gift that can change a life forever?
This Christmas, take some time with your children and choose a gift that can feed a child, clothe a child, or educate a family.
As a mom, it is really important for me to find ways for us to GIVE BACK during the month of December rather than make lists & dwell on what we wish to RECEIVE.
This time of year is a great time to share with our children just how blessed we are.  Along with a Thankful Tree, talk with your children about the statistics that you can find on the Compassion site. The more we share these things with our kids, the more real these children around the world will become to them.
Look closely at this picture that Emily is holding…can you see our boy holding his chicken?? Just delights me to no end.
I have shared before that when we received a picture of our sponsored child holding this chicken, I lost it. I still get teary eyed thinking about the impact of a CHICKEN on a child's life. It is beyond comprehension for us in this country. But a SIMPLE GIFT like that can CHANGE the future for an entire family!!
Please prayerfully consider purchasing a different kind of Christmas gift this year…a gift that truly can change the life of an entire family.
Christmas Gift Ideas from Compassion Gift Catalog
dental care
HIV/AIDS treatment and testing
protection from parasites
mosquito nets
water wells
emergency shelter
feed a baby and mother
baby's medical care for first year of life
newborn care packages
livestock for a family (chicken, goats, pigs)
Compassion Christmas Gift Catalog (you can shop directly online!)
And, if you are not already sponsoring a child through Compassion, I hope you will consider. Go here to learn more.
Go here to send financial support for the families affected by the recent typhoon in Philippines and south east Asia!