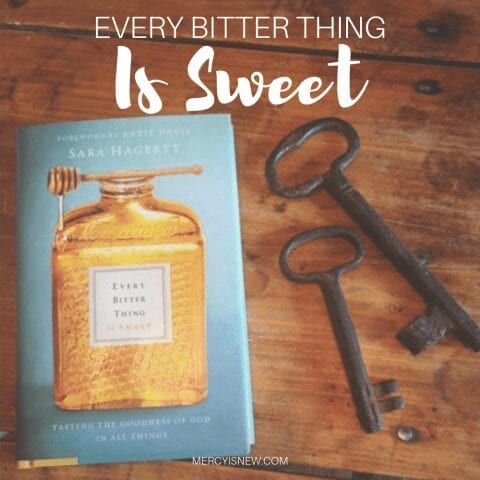 "I would have lost heart, unless I had believed that I would see the goodness of the Lord in the land of the living." Psalm 27:13
Have you ever struggled to believe this passage? 
Do you wonder if God is good…specifically, is He good TO YOU?
If we dig down deep and care to make ourselves vulnerable, I think we will all answer yes to both of those questions. The words have become almost cliche, at least down here in the Bible belt. God is good! All the time! All the time! God is good! But on the inside, where the brokenness and hurt are often too hard to put into words, are we able to speak those words with conviction? And, for those of us who believe these words in the deep down darkest most secret places of our souls, well, we have a story, a struggle, that brought us to that place.
That is the story of this brand new book, Every Bitter Thing Is Sweet: Tasting the Goodness of God in All Things
, by Sara Hagerty. It releases TODAY.
**Order this week
 and receive a free devotional download AND an amazing song by Ben Woodward, The Hungry Soul. Send an email to EBTISbook@gmail.com to receive your gifts! 
Is God good to me?
In this cancer? In this divorce? In this wayward child? In this depression? In my marriage? In my family? With my difficult child? When I can't get out of bed in the morning? In loss?
Is God still good in those times of trial?
Sara Hagerty shares an intimate glimpse into her marriage struggles and her years (10+) of infertility in this book. She shares the grueling process of adoption and the challenging life of mothering former orphans.
Along the way somewhere, Sara began what she calls "Adoration." Friends, as I read her descriptions of how she adores God through His Scriptures, I was nodding and smiling and saying YES to every page. It sounds an awful lot like how I pray the Scriptures and have shared about so many times in this place. It was almost strange to read someone else putting to words exactly what I have been doing these past few years.
And the work God did in her heart as a result? I have seen God is such similar ways move in my own life!!
"I read from the Psalms, 'Your faithfulness reaches to the clouds.' I prayed, God, You are faithful.  You are faithful when I am fearful. I can count on You. You will not leave me when You see my failure. I scribbled notes in my Moleskine journal, propped next to my Bible near my kitchen sink, stained by carrot peels and smelling of onions. I invited His Word into my head, the place most parched for HIs reality…I searched the Psalms. Line upon line, this book showed the chasm in my understanding. Line upon line, this book brought me back to adoration as a way to bridge the chasm between my perceptions and God's truth." Sara Hagerty from Every Bitter Thing is Sweet.
Sounds awfully familiar. My praying of the Psalms has been a tool used by God in my fight with depression. He has been the lifter of my head and the shield for my soul. Through His Word. He guides, He comforts, He speaks. When I have no words, He intercedes as I pray His own words right back to Him.
Sweet friends, I have so many lines from this book highlighted and I wanted to share them all with you! But this post is already pretty long…so I'm just going to encourage you to get the book and be blessed for yourself!! I can truly say that this book ranks right up there with One Thousand Gifts for me. When I began counting my gifts, naming my blessings, years ago…God changed my perspective because of it. Then, several years later He taught me to pray the Scriptures. My heart and my prayer life have never been the same. I hope you will join me in seeking His face and allowing Him to pull you close through His Word.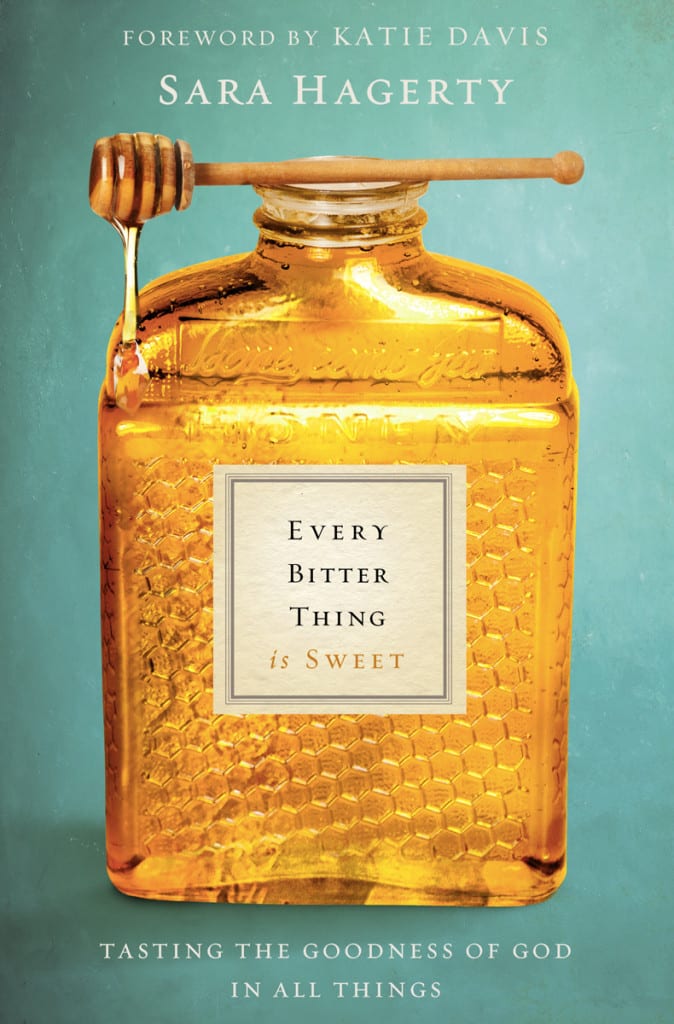 Join me in October as we pray 1 Scripture each day for our families!  
 Every Bitter Thing is Sweet Links