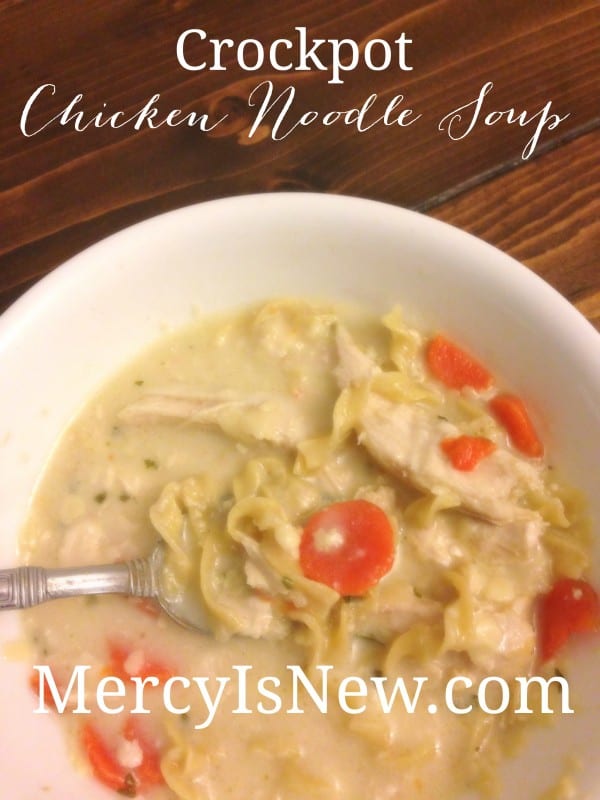 This is my very favorite winter recipe. I love soup. But I don't love standing in front of the stovetop for 2 hours preparing soup. My crockpot is my best friend, so I was really excited when I found a chicken noodle soup that could be prepared this way!
I combined several different recipes I found online AND took out the "cream of" can of soup that so many recipes call for. If you want a creamier soup, feel free to add that yourself. 🙂
This recipe is very forgiving. If you don't like parsley, don't add it. If you have a dairy allergy, don't add the milk.  If you want more liquid, add water or more broth. You get the idea!!
Ingredients
2 chicken breasts
2-3 carrots, sliced
1 quart chicken broth
1 cup water (or more, or add more broth)
1 tablespoon dried parsley
1/2 teaspoon minced garlic
1/2 teaspoon salt
1/2 bag egg noodles (if you would like for this to feed more, add the whole bag! and more liquid)
1 cup milk
Instructions
Cook chicken breasts in crockpot and shred. (Cook on high for 2-3 hours or low all day, whatever fits your busy schedule!)
After shredding or chopping cooked chicken, add broth and/or water.
Add sliced carrots (you can add in the morning to cook all day or cook in the microwave for 4 minutes and add at the end)
Add parsley, garlic, salt and milk.
20-30 minutes before you plan to eat, add the egg noodles to crockpot and let cook on high until tender. (Keep watch on your noodles as each crockpot cooks differently. You DO NOT want to overcook noodles, they become mush!)
At the very end of the noodles cooking, with about 15 minutes left, add the cup of milk, if you wish to add milk.
Enjoy your chicken noodle soup!
Do you have a favorite crockpot soup recipe? I would love to try it! 
More Recipe Ideas