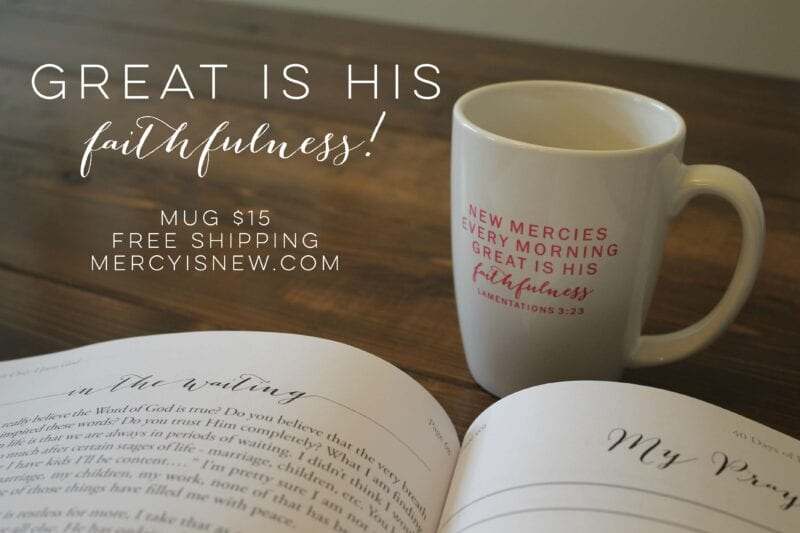 "Great is Thy faithfulness," O God my Father,
There is no shadow of turning with Thee;
Thou changest not, Thy compassions, they fail not
As Thou hast been Thou forever wilt be.
"Great is Thy faithfulness!" "Great is Thy faithfulness!"
Morning by morning new mercies I see;
All I have needed Thy hand hath provided—
"Great is Thy faithfulness," Lord, unto me!
hymn lyrics by Thomas Chisholm
Great is Thy Faithfulness is probably my favorite hymn, it was written based on my favorite passage of Scripture from Lamentations 3, and then, of course, that is where the name for this blog came from.
New mercies every morning. That promise from God never fails to give me hope. And we are all a little desperate for hope, yes? After years of struggling with depression, that phrase became a prayer, a cry out to God, a hope for new mercies every single day. No matter your struggle, the Lord has new mercies for you, too.
So when I started dreaming about having other little items in my shop, I knew this passage of Scripture would be one of the first that I chose.
Great is His Faithfulness Mug
Head over to find this brand new Great is Thy Faithfulness mug in my shop for $15 and FREE shipping for those in the lower 48 states. If you're not in the lower 48, contact me for shipping rates.
I'm so excited to be sharing ebooks, necklaces, print books and now coffee mugs to inspire your walk with Jesus, to encourage your faith and bring a glimpse of hope to your day!