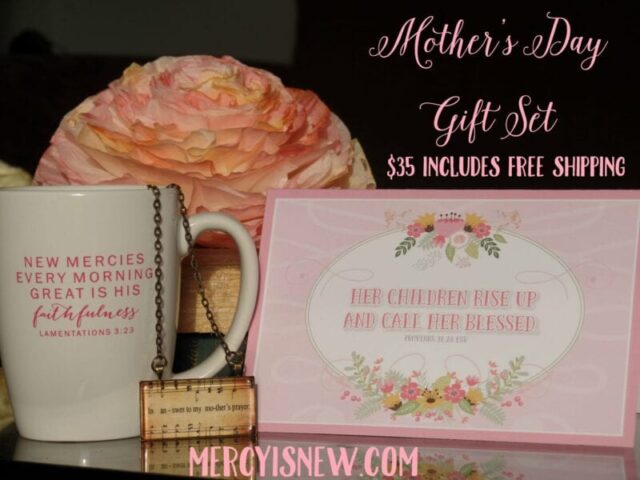 Mother's Day Gift Set from His Mercy Is New
I'm so excited to share with you a gift set that comes straight from my little shop and from my heart! So many of you have loved the coffee mugs and hymn art necklaces, as well as the new hymn cards! So, along with my sweet friend and designer, Melinda, we put together this beautiful set for you! (Or for your mom or maybe as a HINT for the husband!) 
Each gift set includes:
1 Great is His faithfulness coffee mug
1 Hymn art necklace "In answer to my mother's prayer"
1 Fold-Over Greeting Card "Her children rise up and call her blessed"
Pricing
Each set is $35 and that includes your shipping. To lower 48 states or Alaska ONLY.
(If you check the shop prices, the mug is $15, the necklaces are $20, and then you get a greeting card and shipping for FREE!)
If you would like to order a gift set, please head to the shop and go through the order process.
Send as Gift
If you wish to send this to your mother, I will wrap it in tissue paper and send it to the address noted in your order! Please go to the "notes" section of the order and add in the correct name and address for where you want this shipped!
Order your Mother's Day Gift Set!